tor-browser
Posted February 2nd, 2017 by karsten
Tor Browser is the secure and anonymous way to browse the web and access onion services. Tor Metrics' new visualization of Tor Browser downloads and updates shows that Tor Browser is downloaded 100,000 times from the Tor website every day! These could be new Tor users or existing users who are downloading it again.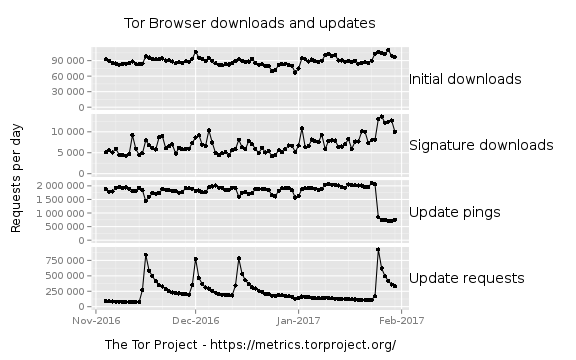 The Signature downloads subgraph shows that between 5,000 and 15,000 users per day tried to verify that Tor Browser was signed by our developers after downloading it. Verifying the signature is the surest way to know that that executable is the legitimate version from Tor and not a benign or malicious third-party one. It is important to increase the number of users that verify their downloads in the future through education and assistance, and knowing the numbers is the first step.
The Update pings subgraph shows ~2,000,000 checks for a new Tor Browser version being made every day. Each running instance of Tor Browser makes a minimum of two such requests per day, and another request at the start of each session. As of now, we don't have any data on how long a typical Tor Browser session lasts or how often users restart their browser. But the update number is still useful to observe trends. For instance, look at the sharp drop of update pings at the end of January. We don't yet know what happened there, though it coincides with the Tor Browser 6.5 release, and the pattern looks similar to what happened when the first version of the 6.0 series was released. We use these graphs to recognize such anomalies, investigate them, and track our explanations here.
Lastly, the Update requests subgraph shows spikes every few weeks with peaks between 750,000 and 1,000,000 requests. This happens when a new Tor Browser version is released, which tells us that automated updates are working!
We sourced the data used above from Tor Project web server logs. Don't worry—we don't record what we do not need (your IP addresses or time of day of requests) and remove potentially identifying information (such as request parameters and the user agent string) before processing. We also delete the original logs afterwards and only keep a sanitized version.
Come back to Tor Metrics often! All of our graphs and tables are updated daily, and we are working to add additional ones in the future. We also encourage you to dig through the data we use and tell us if you find something interesting.
We would like to thank the generous community donations for funding our work. Donations to Tor Project not only help fund new work, but lessen our dependencies on institutions for funding. Keep us independent by donating today!
Posted April 8th, 2014 by mikeperry
The 3.5.4-stable release of the Tor Browser is now available on the Download page. You can also download the bundles directly from the distribution directory.
This release updates only OpenSSL to version 1.0.1g, to address potential client-side vectors for CVE-2014-0160.
The browser itself does not use OpenSSL, and is not vulnerable to this CVE. However, this release is still considered an important security update, because it is theoretically possible to extract sensitive information from the Tor client sub-process.
Here is the changelog:
Posted November 22nd, 2013 by mikeperry
in
The Tor Project has two browser-related job openings available!
We are looking for a C++ browser developer to work on our Firefox-based browser, and a Firefox extension developer to work on our growing number of Firefox extensions. Our ideal candidates would be comfortable in both roles, but we are also interested in hearing from people with either skillset.
On the C++ side, your tasks would include implementing new Firefox APIs and browser behavior changes; looking for and resolving web privacy issues; fixing bugs; responding on short notice to security issues; and helping to merge patches upstream.
On the extension development side, your primary tasks will include writing patches and UI improvements for Tor Birdy, Torbutton, HTTPS-Everywhere, Tor Launcher, and an OTR plugin for InstantBird. These improvements will primarily revolve around improving usability, Tor configuration, and security for our users.
Instructions on how to apply to the C++ position can be found on the browser hacker job posting. If you would prefer to focus on extension development, you should apply to the extension developer position.