Breaking through censorship barriers, even when Tor is blocked
Download video | view on YouTube
While Tor Browser provides many security and privacy properties and features, not everyone around the world has the luxury to connect to use it. By default, Tor Browser makes all of its users look alike by spoofing UserAgent (and other methods) to avoid fingerprinting attacks. However, it doesn't hide the fact you're connecting to Tor, an open network where anyone can get the list of relays. This network transparency has many benefits, but also has a downside: Many repressive governments and authorities benefit from blocking their users from having free and open access to the internet. They can simply get the list of Tor relays and block them. This bars millions of people from access to free information, often including those who need it most. We at Tor care about freedom of access to information and strongly oppose censorship. This is why we've developed methods to connect to the network and bypass censorship. These methods are called Pluggable Transports (PTs).
Pluggable Transports are a type of bridge to the Tor network. They take advantage of various transports and make encrypted traffic to Tor look like not-interesting or garbage traffic. Unlike normal relays, bridge information is kept secret and distributed between users via BridgeDB. If you're interested in helping censored users, you can become a bridge operator. And if you're a developer and have interesting ideas on how to make new PTs or want to contribute code, we've some good documents to get you up to speed.
And finally, if you're a censored user and want to take advantage of PTs, I've good news for you. They're already included in Tor Browser and this how-to graphic should help you configure it to bypass censorship.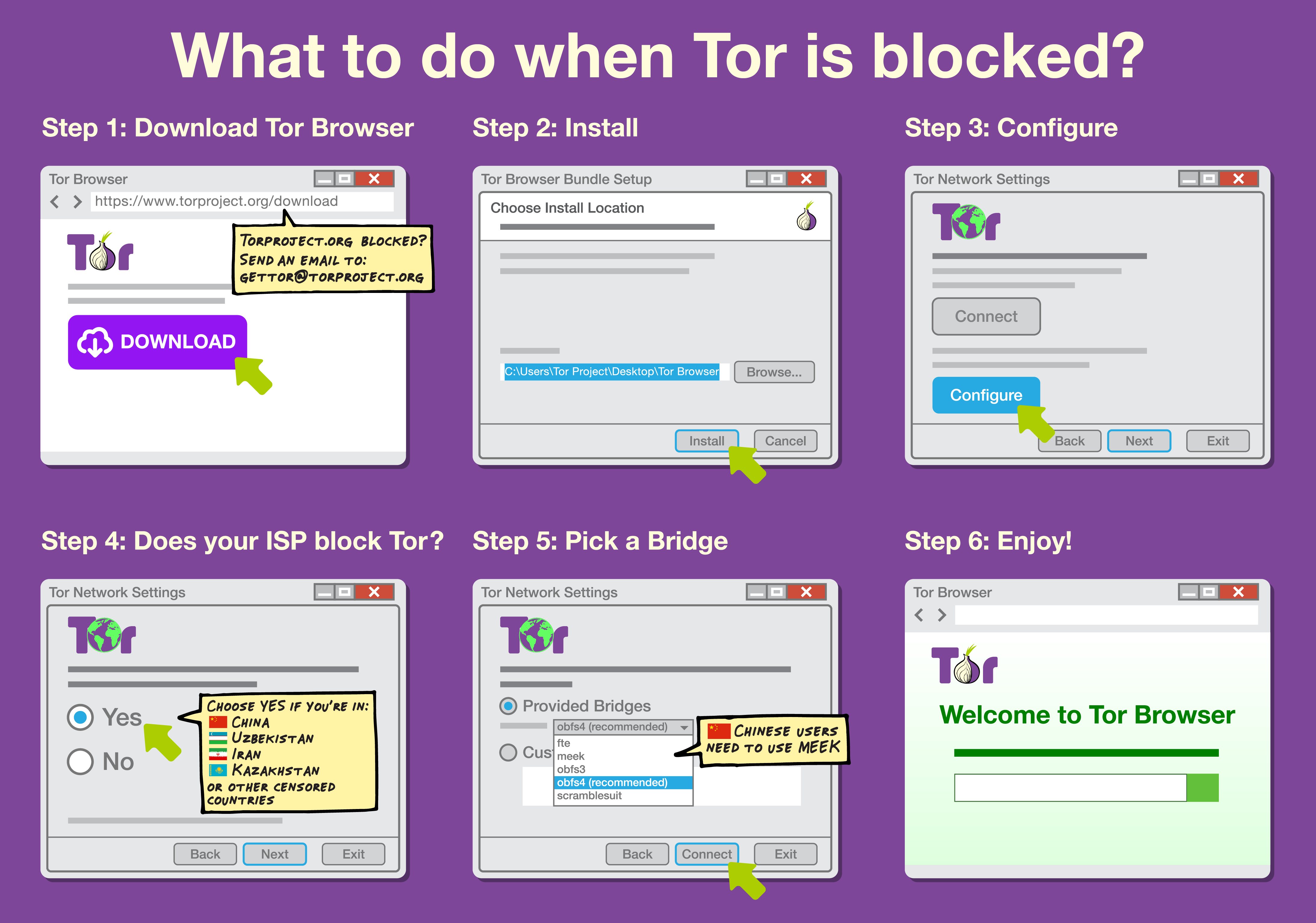 (download png)
And of course we didn't forget to make a gif version:

(download gif)
In case you need more bridges, send an email to bridges@torproject.org or visit BridgeDB website.
At the end, I'd like to thank all anonymous contributors and Vivido Studio for making this work possible.
In solidarity,
Nima Fatemi
Well, let us all then hope and trust that the disenfranchised bulk of the Chinese population - around 1.34 billion persons or 96% - will now, somehow, find your link on this here mrphs's blog.
Or perhaps you'll be kind enough to post it on Weibo and other Chinese network links?
Please also be aware that the Tor Browser is only 100% secure/safe when used on the Tor network so don't be getting yourself into any trouble by thinking its usage on other networks is also secure.
You may, of course, post your link in the comments section of any China related article found on economist.com. It won't be deleted - in my experience, I hasten to add - and it generally has a high Chinese readership.
There are, of course, also Chinese government agents using economist.com who will insult and vilify you knowing that The Economist staff will delete obnoxious remarks.
That's how Chinese and Russian censorship works on media they have no control of. LOL
Sadly, this means that your post too will consequently be deleted but The Economist staff will advise and apologise instantly to you via email and invite you to re-post your link.
Persevere. Never falter.
Thank you for your attention.
It's not a good idea that posting it in public community or website in China,because goverment will arrest people who upload or sent these software.It's not safe for normal people