Double Your Donation: Rabbi Rob and Lauren Thomas Announce Matching Challenge for #SupportTor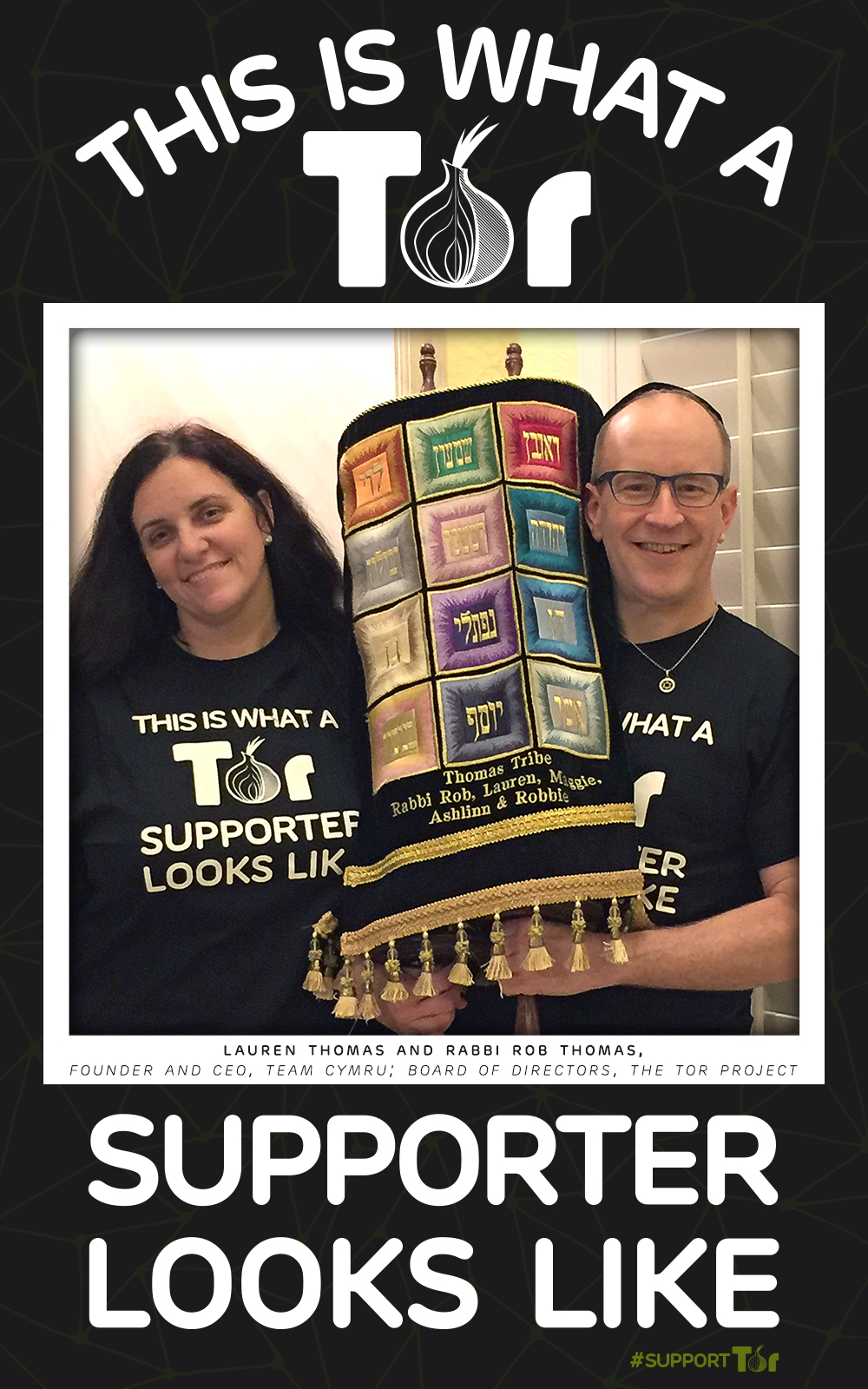 Rabbi Rob Thomas, founder and CEO of Team Cymru, is a member of The Tor Project's Board of Directors, and a loud and proud advocate for Tor and our first fundraising campaign.
Rabbi Rob and his wife have issued a challenge to the Tor community worldwide: donate to Tor by 11:59pm PST on December 31st and they will match your gift, dollar for dollar, up to $18,000..
Rob and his wife Lauren normally make their contributions to the causes they support anonymously, for spiritual purposes. But their deep and long-term support for Tor's sustainability has moved them to make a public challenge. Your gift to Tor will now have twice the impact.
"The internet cannot heal itself in the face of tyrants," Thomas says. "Tor is the salve that heals that wound; Tor is what allows us to route around tyranny."
Our deep gratitude to you Rabbi Rob and Lauren, and to all who join the challenge to #SupportTor.
Dear Roger,
MeThinks Thou Sleeps TOO Long!
Seriously, I always look forward to hearing from you as a role person. (TOR BROWSER BUNDLE ROCKS!!!) And so do You and Ed S. & Laura P. and Robert A. and Diffie & Helman and calomel dot org and all those who make TOR the voice of freedom about which our world needs to hear & heed.
I look forward to everyone establishing tormail TOoRGLE torkype and torface and any way to have a full life free from BIG BROTHER all from a single interface!
Yes, Disconnect.me works for toorgle-- mostly (THANKS TO ALL!!!).
Thanks to RABBI BEN for doubling my efforts to help tbb get on the RPI2.
Thanks for a great many who made/make tor browser a reality.
I am one who uses my TBB for everything I can think of just because I can (if barely because I have huge trouble with technology including setting up email and then sorting thru it.) Anyway, I really need the TBB approach to Email and the like. I would love to be able to set up a middle node or two for TOR on a PI2 ($35.00 per node.) or maybe a PI-ZERO (@$5.00 per node!!!) My problem is that i do not speak TORRIC!!!!! (Videllia was a huge help and now is gone! So now I do not know how to make a node!) Nor can I compile C to RPI2.
Please, to all concerned, Please do not take no for an answer! Everyone is encouraged to use tor as much as possible and to contribute bandwidth where possible.
Ha. Whoops. That comment actually went live? Sorry about that. :)