Strength in Numbers: Double Your Donation with Mozilla's Match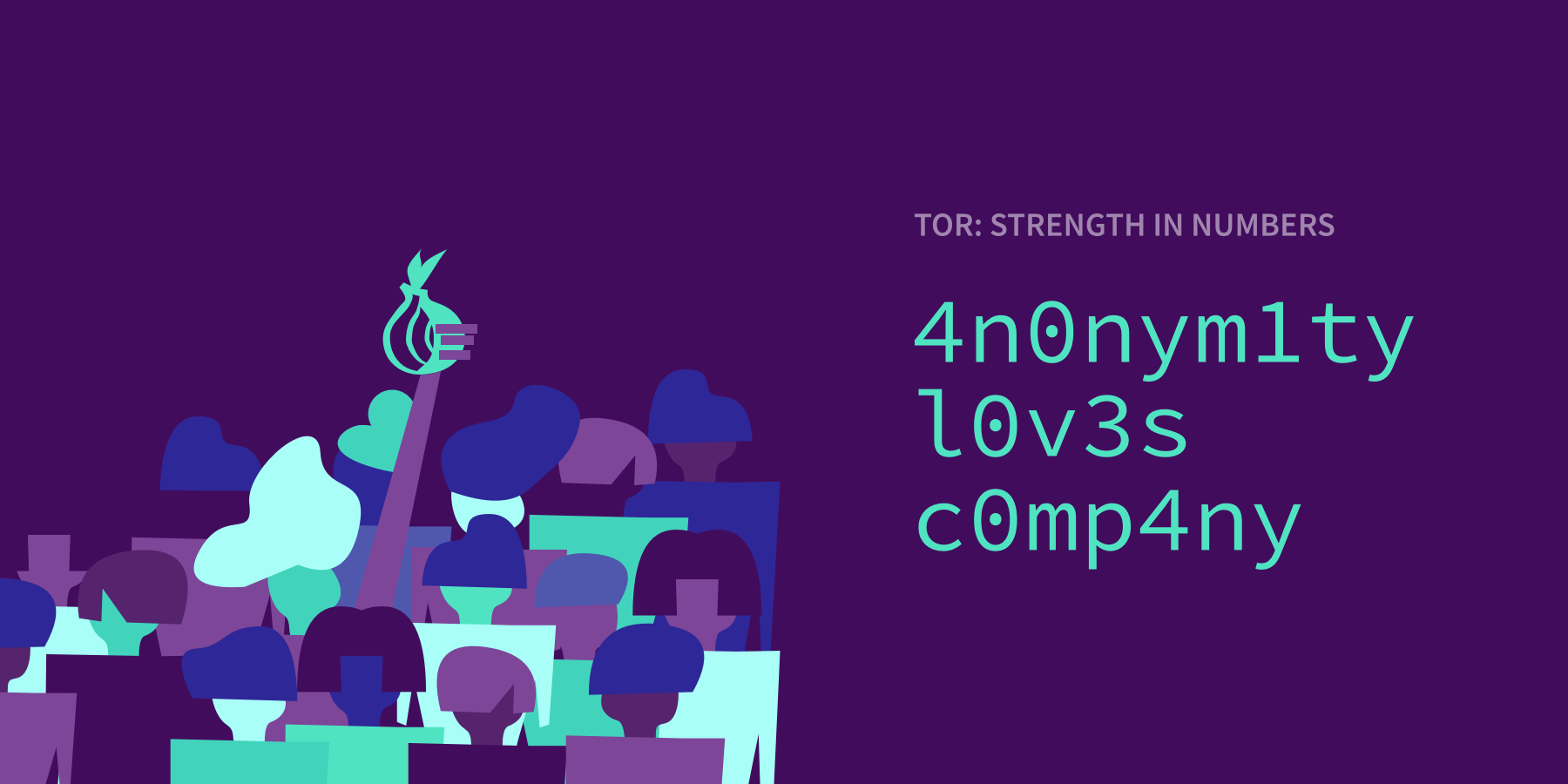 Strength in Numbers. That's the key to ensuring privacy and freedom online.
2018 has been a great year for the Tor Project. Censorship and surveillance are increasing around the world, but we have banded together to take a stand against invasive and restrictive online practices with hopes of bringing privacy and freedom online to all.
The organization grew both in size and budget. The network grew both in users and relays. We built up our UX and Community teams, and they visited some of our most vulnerable Tor users--in places like Colombia and Uganda--gathering information face-to-face to make Tor more accessible. We used that information to build Tor Browser 8, the most user-friendly Tor Browser ever. And to reach even more people in repressed areas of the world--where most access the internet exclusively through their phones--we released the first Tor Browser for Android.
We're excited to continue this important work in 2019. And we can't do this without our community, our partners, or without our supporters.  
The Tor Project has a bold mission: to take a stand against invasive and restrictive online practices and bring privacy and freedom to internet users around the world. But we can't do it alone.
Countries like Egypt and Venezuela have tightened restrictions on free expression and accessing the open web; companies like Google and Amazon are mishandling people's data and growing the surveillance economy; and some nations are even shutting off the internet completely to quell possible dissidence. 
Today we launch our end-of-year campaign, Strength in Numbers. Your support, along with the support of many others, can ensure the Tor Project's success into the future and ensure we can keep listening to the critical voices of those who need Tor the most.
This year, with your support, we can also:
Increase the capacity, modularization, and scalability of the Tor network, making improvements and integrations into other privacy and circumvention tools easier and more reliable;
Better test for, measure, and design solutions around internet censorship, allowing people around the world living under repressive governments to access the open web safely and privately; and
Strengthen our development of Tor Browser for Android, now in alpha, and make sure it's in tip top shape to reach the rising number of people around the world who only access the internet from a mobile device which may have low bandwidth and a costly connection.
As part of our year end fundraising campaign, Mozilla will be matching every dollar donated to Tor, so your impact will be doubled.

Make a donation today, and you can be counted as one of the stakeholders bringing safe and private internet access to people worldwide.
Because of Mozilla's generous support, there's never been a better time to make a gift to the Tor Project. Every little bit helps. Because there is Strength in Numbers.
Thank you for your help, and thank you, Mozilla.
"Ironic that there is no anonymous way to donate to a project promoting anonymity."
But not funny, ask Zwiebelnfreunde (Onion-friends) in Germany, police took all the financial administration of all people donating to Torproject and tails with some sort of nonsense story.
'Using Tor is suspicious', 'donating is terrorism level' (in their eyes). So there you are, 'we see you privacy terrorist internet user, and we are gonna get you'!
So, no anonymous option for anonymous donating to Tor and tails is de facto surrending to western surveillance system (19 countries) that exchange their data with the Palantir database software system.
We just can not see the (worldwide) personal consequences from tiny things like donating some money, even if it is completely legal.
'Happy' border trespassing after donating.
'Happy' times in nowhere land between borders.
'Happy conversations with the people over there who are above the law and don't have to explain anything to anybody.
'Happy traveling in the so called 'free western world'.
Don't be a happy naive donating person because the chances of being happy for a long time are small, very very small in our upcoming A(rtificial)I(ntelligence) world.
Ai will never forget your donations, among many other things.
And nobody can or will answer the question if 'donating to Tor or Tails' is one of those nice hidden parameters in this judgy Ai risk-assessment tool called Compas or in Palantir, that make you guilty forever.
Ai bias
https://www.propublica.org/article/machine-bias-risk-assessments-in-cri…
It says, "There's software used across the country to predict future criminals. And it's biased against blacks."
But can be also read like "And it's biased against privacy-lovers, privacy-activists, privacy donators, Tor and Tails supporters."
Therefor it is very important to have a way to donate anonymously, a way to convert some little real life cash into a digital payment anonymously.
Bitcoin does not give me that option.
But maybe it is an idea to have persons in every country that are already officially linked to Tor or Tails collecting the real money.
Or and make a smart deal with a pizza/exchange delivery service, half of the tip is for them, half for Tor project.
So moz:lla is supporting the service then: the Mozarella payment privacy project .
Positive re-framing , positive re-branding : Torbrowser will be the P:zzabrowser
Who can resist to donate to Mozarella project for a P:zzabrowser ?