Explore Tor, New York City! A New Meetup Starting Dec 7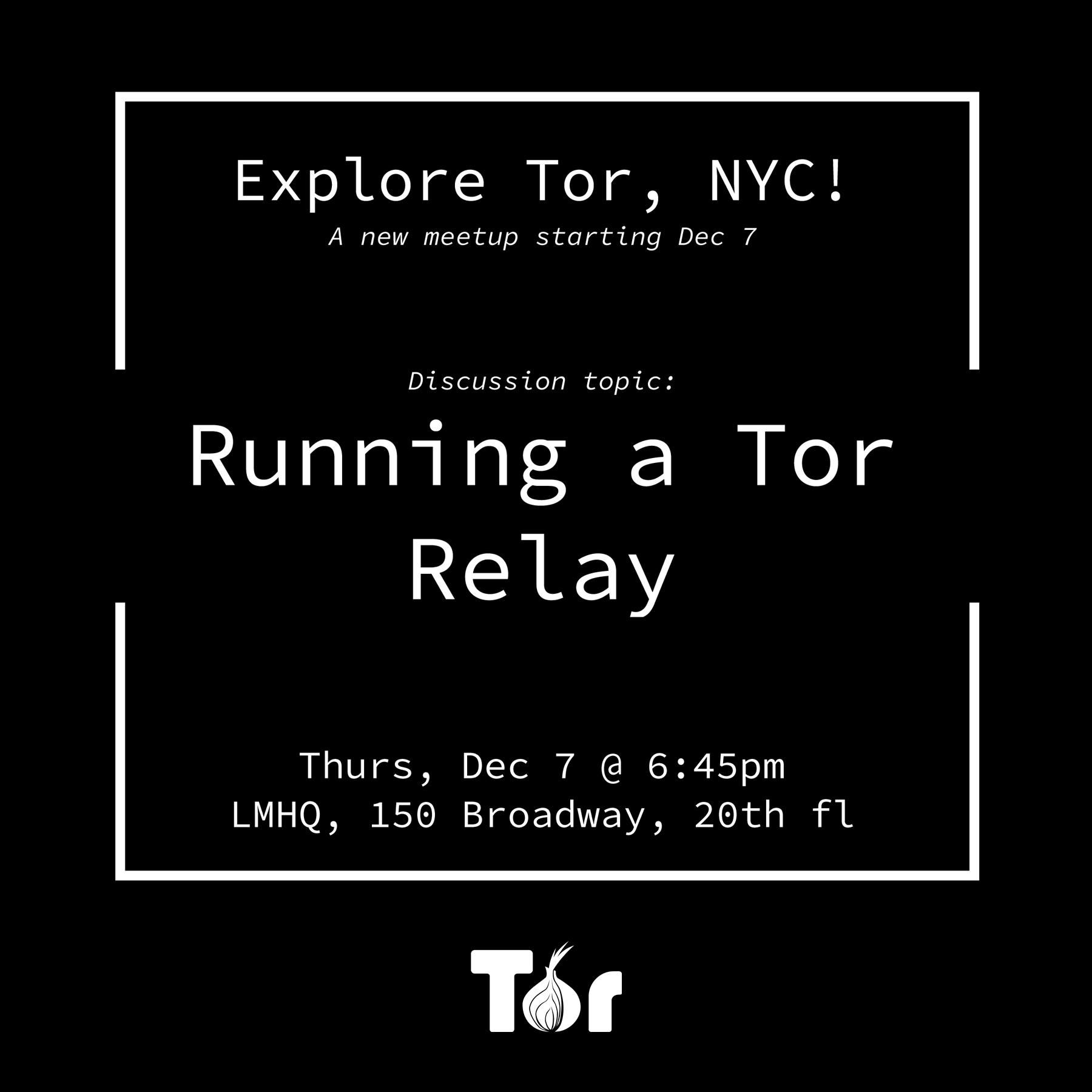 The Tor community is vast and deep yet remains a virtual entity outside periodic physical events. In New York City on December 7, we are going to start to change that.
Current and future Tor relay operators will assemble on the 20th floor of 150 Broadway, in the LMHQ shared meeting space, at 6:45 PM. This face-to-face gathering is an opportunity to meet others who run Tor relays in NYC, and for those investigating the possibility of running a relay or a bridge. 
The meeting will open with a short introduction, then move into a discussion with relay operators. 
If you run a Tor relay or bridge, or wonder what's involved in running one, this meeting is a great opportunity to  get input from others. NYC apartments and offices are filled with high-bandwidth connections, and there is plenty to spare to help users around the world facing censorship and surveillance.
We are looking to hold meetings every two months in NYC about other related topics going forward. Future ideas for Tor-focused gatherings are in the works, with input appreciated. Leave a comment below!
Other topics under consideration for Explore Tor, NYC! meetups include:
hands-on workshop on installation of Tor Browser for desktop and mobile
trainers meet-up to exchange teaching materials and network with fellow trainers
why .onion sites should be an infrastructure component for plain old web sites 
RSVPs are unnecessary, and all are welcome. Join us on December 7 and let's start making the Tor Project a living, breathing part of New York City's tech culture.