[Explore Tor, NYC!] Tor for Journalists: April 12
by steph | April 5, 2018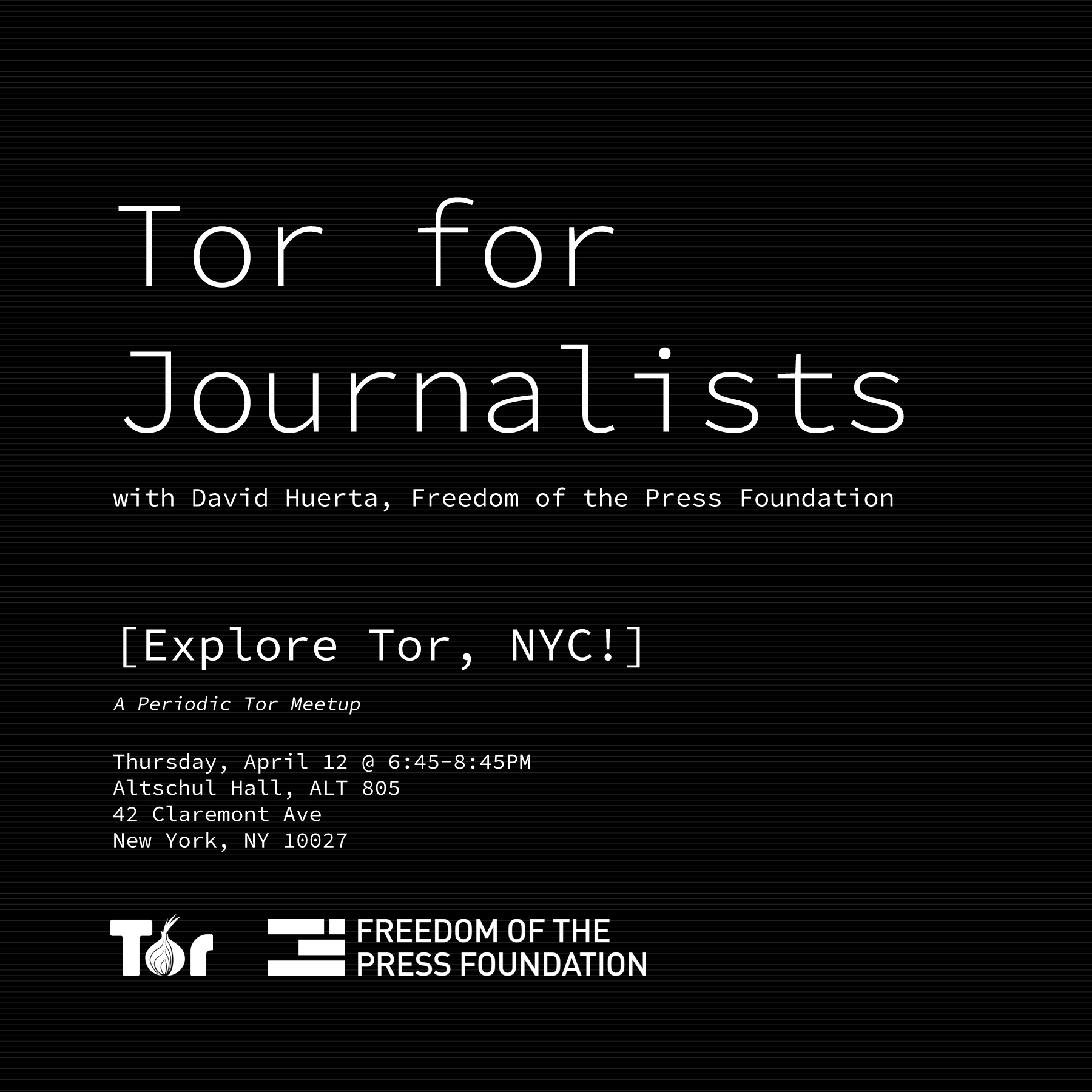 The Tor community is vast and deep yet remains a virtual entity outside periodic physical events. Last December, we opted to change
that
.
W
e're continuing that thread with our next Explore Tor, NYC! meetup, happening on Thursday, April 12 at 6:45PM at Barnard College in uptown Manhattan
.
Come to this meetup to learn about
how Tor can help you
facilitate
meaningful, adversarial journalism
without being tracked or surveilled
.
If you're a journalist and not
tech-savvy, y
ou
might find encryption daunting
or be overwhelmed by what privacy-preserving recommendations would work best for you
. But just as technology has enabled pervasive surveillance, it can also provide a shield to safeguard your communications
. We want to show you why Tor is a critical tool, how to use it, and answer any questions you have.
This session will be led by David Huerta from Freedom of the Press Foundation. He'll
provide a soft-landing into the relevance of Tor to journalists today and any others who are new to Tor.
We'll start with a presentation and follow with ample time for questions. If you're curious about any particular aspect of Tor, this event is for you. We're looking forward to an engaging discussion where everyone leaves a little more knowledgeable.
Where & when:
Thursday, April 12 @ 6:45-8:45 PM 
There is no admission fee nor RSVP required for this event.
Join the [regional-nyc]
mailing list to get notifications of upcoming NYC events in your inbox and stay connected with the locals online, too.