Use a Mask, Use Tor: Friends of Tor Matching Donations up to $100,000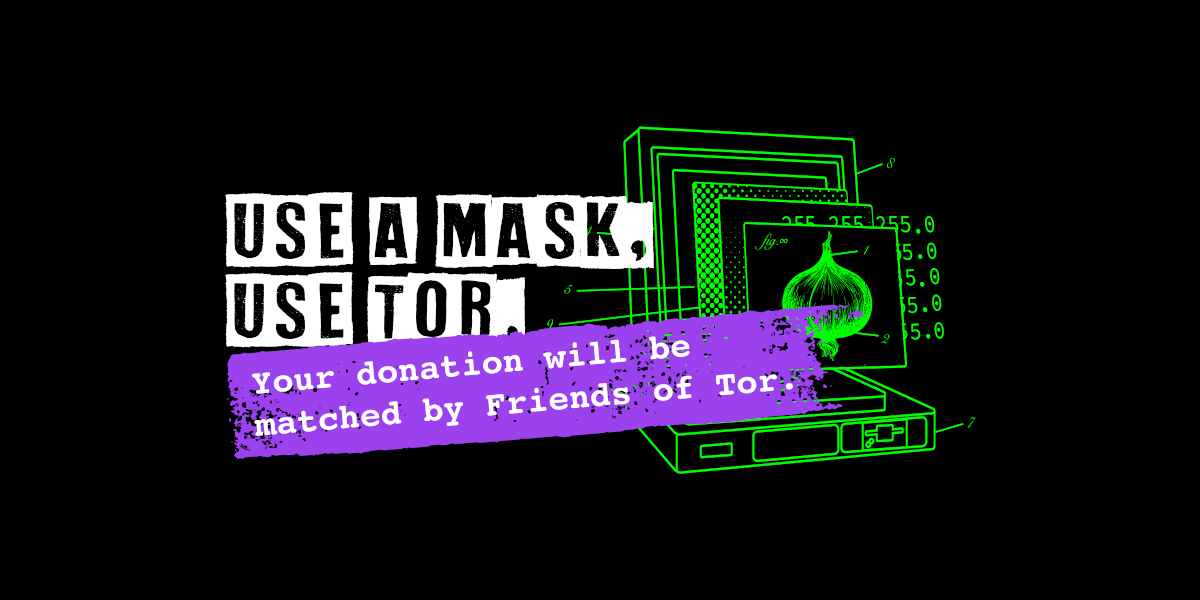 *Note: The Tor Project's postal address has changed since this post was published. Find the most current address in our FAQ.
Update December 17, 2020: The match has been reached! Thank you for helping us raise $100,000--made $200,000 with the Friends of Tor match. Gifts from now until the end of the year will not be matched. There's still time to contribute to the 2020 year-end campaign, and every contribution makes a difference.
---
Starting today through December 31, every dollar donated to the Tor Project, up to $100,000, will be matched by Friends of Tor. That means that your donation will make double the impact. We're able to offer this match because of generous folks in our community who believe in Tor, privacy online, and the work to resist the surveillance pandemic.
Make a donation today and your gift will be matched, 1:1.

Meet our friends who have generously come forward to make this match:
---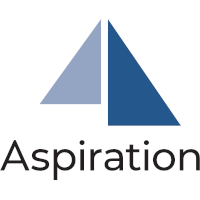 Aspiration connects nonprofit organizations, foundations and activists with free and open software solutions and technology skills that help them better carry out their missions. We want those working for social and racial justice to be able to find and use the best tools and practices available, so that they maximize their effectiveness and impact and, in turn, change the world. We also work with free and open source projects and communities in both support and partnership roles, advising and contributing on matters of strategy, sustainability, governance, community health, equity and diversity. We design and facilitate unique and collaborative nonprofit and FLOSS technology convenings, and have run almost 700 in over 50 countries as well as online over the past 16 years.
---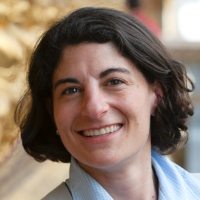 Wendy Seltzer is Strategy Lead and Counsel to the World Wide Web Consortium (W3C) at MIT, improving the Web's security, availability, and interoperability through standards. As a Fellow with Harvard's Berkman Klein Center for Internet & Society, Wendy founded the Lumen Project (formerly Chilling Effects Clearinghouse), the web's pioneering transparency report to measure the impact of legal takedown demands online. She seeks to improve technology policy in support of user-driven innovation and secure communication.
---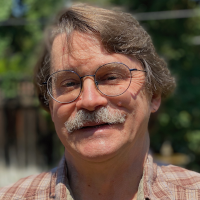 Jon Callas is a cryptographer, software engineer, user experience designer, and entrepreneur. Jon is the co-author of many crypto and security systems including OpenPGP, DKIM, ZRTP, Skein, and Threefish. Jon has co-founded several startups including PGP, Silent Circle, and Blackphone. Jon has worked on security, user experience, and encryption for Apple, Kroll-O'Gara, Counterpane, and Entrust. Before coming to the EFF, Jon was a technologist in the ACLU's Speech, Privacy, and Technology Project on issues including surveillance, encryption, machine learning, end-user security, and privacy. Jon is fond of Leica cameras, Morgan sports cars, and Birman cats. Jon's photographs have been used by Wired, CBS News, and The Guggenheim Museum.
---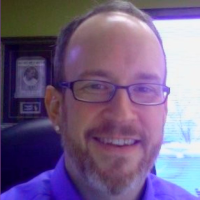 Rabbi Rob Thomas is the founder and CEO of Team Cymru, and a member of the early generation of network defenders. He has worked at IBM, Sun, and Cisco, among others. During his career, Rabbi Rob has been a Unix kernel developer, ISP backbone engineer, security architect, and an adjunct professor. He was also the first individual member of FIRST (the Forum of Incident Response and Security Teams). Rabbi Rob took his first C programming class at age 12, and has been addicted to technology ever since. He and Team Cymru are long-time fans and supporters of the Tor Project.
---
We would also like to thank our dearest anonymous donors who collaborated to create this fund. This spot is dedicated to them as a small recognition of their support. As the Tor community knows, anonymity loves company, so why not join our anonymous donors and make a contribution, too? With their matching donation, your contribution has the double the impact.
---
Thank you to the generous Friends of Tor, and to all of our supporters! Please make your gift today, and your donation will be matched 1:1.