Giving Tuesday: Support Tech for Freedom and Human Rights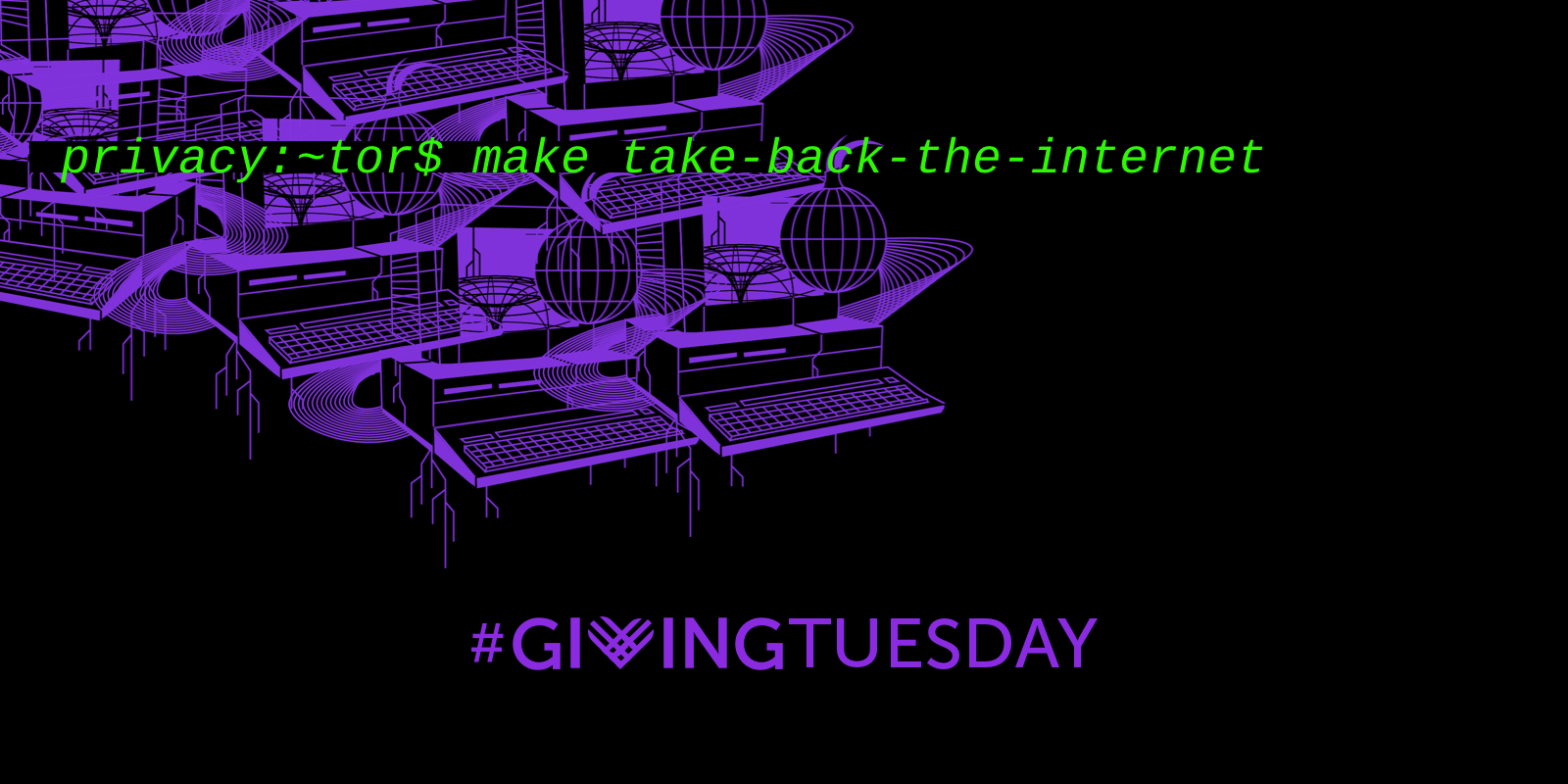 First of all, thank you for supporting and using Tor over the years. I wrote my first Tor patch back in 2002, and I still believe that the software we're writing can help lay the groundwork for a better, more private internet in the future.
The internet is a long way from where it should be. Over my lifetime, for good reasons and bad, commercial interests have re-centralized the internet. When the average person goes online, dozens of parties have the opportunity to surveil or censor their traffic.
Right now, we're in the middle of our annual fundraising drive, and today is Giving Tuesday, a day when people all over the world focus on how we can give back and make the world a better place. I'd like to tell you about some of our work your contributions can help over the coming year. I'll be focusing on things that my team works on in the "tor" program itself.
You can help improve the security of the Tor network. We've made a bunch of improvements this year to minimize the collateral damage Denial-of-Service attacks cause the network, and we've developed a bunch of technology for traffic padding to reduce traffic analysis. We've also been looking at new designs from the research world for better padding schemes and improved cryptography. I've been longing to revisit our sandboxing code, and the whole team is eager for more time and resources to port more of our codebase to Rust.
You can help us scale the Tor network to support the whole world. We're proud of the number of people we can support today, but that's a far cry from achieving our mission of bringing privacy to everybody who wants it. As more people choose to protect their privacy, we need to make sure that Tor can handle the load -- but we'll have to make changes in the software's architecture to do so, so that we can grow the number of users by a factor of 10 or 100 without getting bogged down with directory load or exhausting relays' sockets.
You can help us develop Tor right. Software development isn't just about writing new features: it's about writing code that is clean, correct, maintainable, and sustainable. I believe that an important part of being a privacy developer today is to make sure that there is still privacy software tomorrow. We can do that by working for the long term: building software that other developers can adapt to the future and maintain over time, even when those developers are not us. We've gotten better over the past years, with greatly improved testing, documentation, development practices, and code organization, but we still have a long way to go.
Most of all, you can help us respond flexibly to unexpected events and issues over the coming year. Despite all our plans and preparations, we don't truly know what technological privacy challenges we will face in 2020. Your contributions can give us the ability to focus on breaking events without stalling progress on other development work.
And your donation doesn't just help my team develop Tor itself; your contribution helps fund all of the Tor Project's work to protect privacy and freedom online and impacts millions of people worldwide. A future post will go into more detail about aspects of our work you'll help support in the next year.
Technology doesn't need to come at the expense of privacy. Connectivity doesn't need to cost us our self-determination. With your help, we can keep Tor growing and improving to be what the world needs: a way to help take back the internet for freedom and human rights.