Interview with Cindy Cohn, EFF Executive Director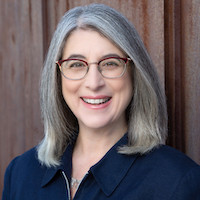 Cindy Cohn, Executive Director of the Electronic Frontier Foundation (EFF) and Board Member of the Tor Project, was named one of America's Top 50 Women in Tech 2018 by Forbes.
As a tireless defender of digital rights, we wanted to get her take on the state of the internet today, recent victories and challenges ahead, and Tor's role in taking back the internet.
How would you describe the internet today?
Disempowering. Between surveillance business models, national security surveillance, and ineffective legal and technical protections, many people feel that they have no power to protect their security and privacy.
But the good news is that we can regain control, and more people than ever are demanding a course change. Tor is a critical tool to helping us make that shift.
What do you think are some key victories that have happened in the past year to advance privacy and freedom online?
Tor and the Tor network just keeps getting stronger, more important, and easier to use. That's amazing and a testament to the fierce, powerful and smart people who develop, support, maintain, and protect it.
I'm also heartened by the growing recognition across the world that privacy and security are linked and that technical, legal, and policy work is all needed to protect them.
I'm biased, but I think that a major step toward protecting people's privacy as they cross the US border came in the Alasaad case EFF and the ACLU handled, where the court agreed with us that the US government needs reasonable suspicion to search the devices that people carry.
The ongoing efforts to encrypt the web and increase awareness about security tools and practices are also cause for celebration.
What challenges do you think privacy advocates and developers will face in the next year online?
I think the rise of authoritarianism around the world will continue to present challenges for privacy advocates and developers. One of the key things that would-be dictators know is that they have to prevent the people from being able to speak and learn things confidentially. This means more attacks on encryption.
I think that advocates and developers will need to continue to stand up for encryption and also ultimately will have to address the need to re-decentralize the internet. The pressures on the tech giants to make sure that no one can have a private conversation online will continue. We need to be ready and build out alternatives.
What is the internet you would like to see in the future?
We need to build a world where everyone has free (as in speech) access to read, speak, create, and control their experience, including creating their own tools and protecting their own privacy. A world where humans have the legal, policy, and cultural support and protection to do so. Where individuals have the strength and processing power to take on larger organizations, whether government or corporate, as well as to be protected from them. A world where our technology, whether as simple as an email or as complex as an AI system, is trustworthy and loyal to us.
Why do you think people should support and care about Tor?
If you care about maintaining (or creating) a society that can change — where ideas can grow and information can be learned free of control by governments or corporations — then Tor is one of the critical tools that you should support and care about.
Tor protects the canaries in the coal mines.
Even if you personally don't need the protection that Tor offers, standing up for Tor is standing with the people who take risks to keep the rest of us informed about some of the most dangerous and important facts and issues facing the planet.