End of #MoreOnionsPorFavor campaign
by ggus | August 25, 2020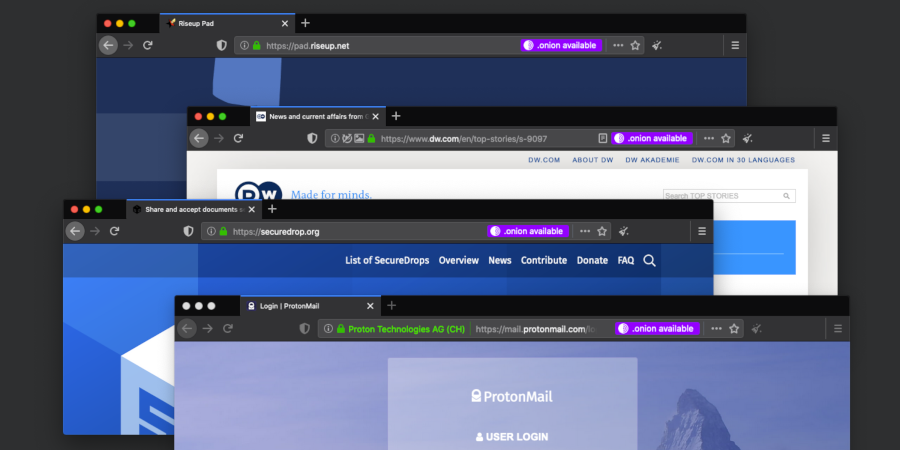 This week we're officially wrapping up the campaign #MoreOnionsPorFavor. Non-profits, companies, media outlets, whistleblower platforms, service providers, hackerspaces, security conferences, bloggers, and web developers joined the campaign to make the web more secure. We will email swag winners in the next few days.
Over the last month, onion services operators and our broad community celebrated and deployed a brand new feature called Onion-Location. The feature, a purple pill
in
the URL bar, advertises to users that there's a more secure way to connect
to a
site
by
using onion services. Even though onion service saw the light of the day more than 15 years ago
, #MoreOnionsPorFavor was our first outreach campaign to run onion sites, and more specifically to deploy Onion-Location.
As part of the Tor Project
's
mission, we're a non-profit with the goal to educate users about anonymity and privacy technologies that we build. During the campaign, we've learned that although many people know about the vanilla onion routing design, where a user connects over three relays to reach a website, many technologists aren't aware of how onion services actually work or what
is
needed to onionize a website.
That is why
the
campaign and
the
Onion-Location feature are both important:
together, they educate users that onion services are just a secure way to access the internet, like HTTPS but without metadata. The campaign was also a great opportunity for websites to advertise or remind users that they have an onion site. That was the case
for
FragDenStaat.de, a non-profit organisation from Germany:
We have been serving Tor browser traffic on our domain via our

hidden

service

[onion service]

for a while through use of the Alt-Svc HTTP header, but your blog post gave us the incentive to make our onion service more visible.
In addition, for many onion services operators, the possibility
of
hav
ing
their online services reachable worldwide and bypass
ing
local censorship is an important motivation for the adoption of onion services technology. This is the specific case of media outlets that are looking to ensure and promote
press
freedom. Joining our campaign, Deutsche Welle wrote:
DW is a global advocate for freedom of opinion and freedom of speech. […] It is therefore a logical step for us to also use Tor to reach people in censored markets who previously had limited or no access to free media.
Some of us are passionate about onions and
their
security properties.
Over 60 organisations and individuals -- s
mall, medium
,
and large onions
--
ha
ve
reached out to us to be part of this campaign. Setting up an onion site can be important not only for us and our users, but also to teach your colleagues and community about how important is to protect client data, like this french criminal lawyer, who shared their onion site with us:
I would like to let you know that I, a french criminal lawyer, use a hidden service

[onion service]

on my professional website. […] I use it to promote Tor to other lawyers who often use encrypted message services but do not consider the matter of anonymity online, even though some famous French criminal lawyers have recently been subject to highly questionable judicial interceptions. The legal battle is not exclusive to the use of technical precautionary measures such as Tor...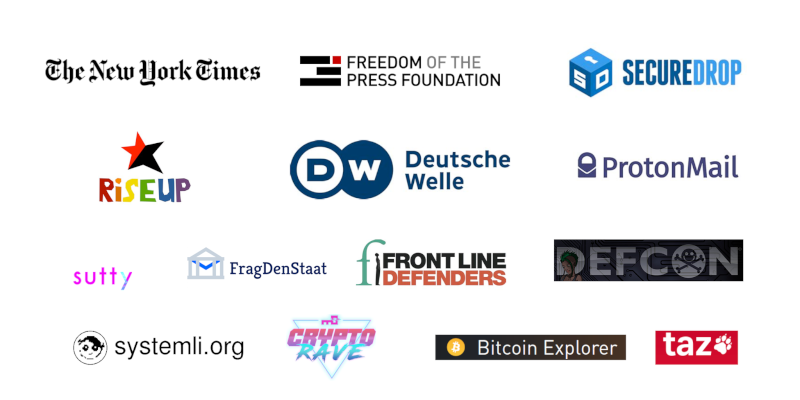 In the
coming
months
,
we're going to improve the documentation of onion services section on the Community portal with the feedback collected
through this campaign
and with tools that we developed to help to p
romote
onion sites. As we mentioned previously, we offered technical support for enterprise
s
that wanted to join this campaign. If you're reading about the campaign now and want to set
up an onion site for your organisation, send an email to us: frontdesk@torproject.org. 
Finally, we want to send a big thank you to all the participants and a special thank you to our friend @cyberdees, who is an unstoppable Tor advocate!