A New Bridge Authority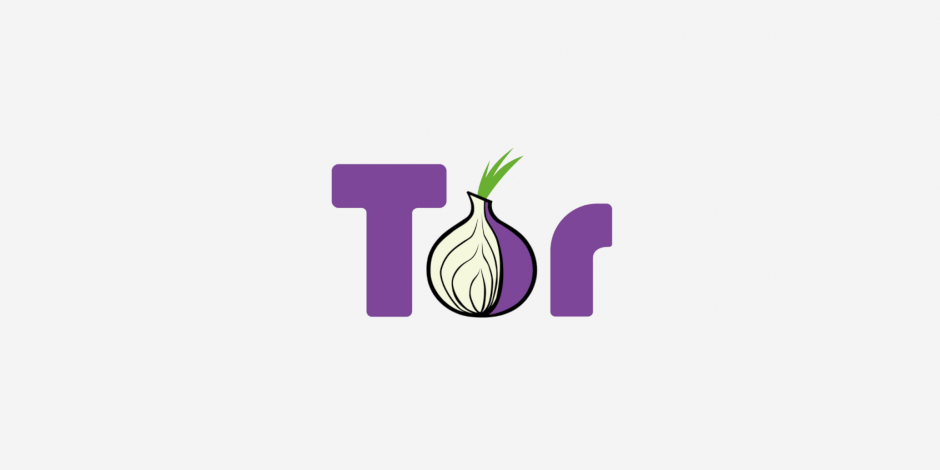 After ten years of volunteer maintenance of Tonga, Tor's bridge Authority—a piece of critical infrastructure within the Tor network—our colleague and friend, Lucky Green, a long time cypherpunk, and free speech and privacy advocate, has decided to step down from this role. Tonga's cryptographic keys will be destroyed this week. We are incredibly thankful to Lucky for all his support and selfless labour in maintaining a key component of our censorship circumvention efforts, grateful for the years we have spent working with him, and very sorry to see him go.
The Bridge Authority is a simple but essential piece of the Tor Network. Unlike the other directory authorities, the Bridge Authority does not get a vote in Tor's consensus protocol. Instead, it serves to aggregate relay descriptors which Tor Bridges send to it, checking their cryptographic validity and testing that the Bridges' ORPorts within these descriptors are reachable. It then sends these descriptors to BridgeDB, which does all the deduplication, cryptographic signature verification (again), stability calculations, pluggable transport argument validation, assignment into the hashring of each Bridge distribution mechanism, and finally distributing the Bridges to Tor clients.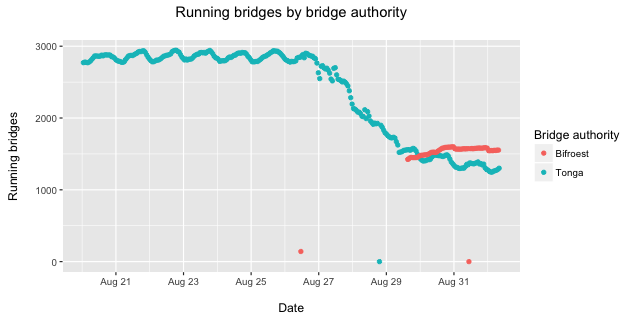 This transition does not affect Tor users, regardless of whether or not Bridges are used to connect to the Tor network. However, it is extremely important that relay operators running Bridges upgrade to tor-0.2.8.7 or tor-0.2.9.2.-alpha, which contains a patch to replace Tonga with the new Bridge Authority. Bridges which do not upgrade will cease to be distributed to new clients; however, clients which have connected to your Bridge previously will still be able to connect (at least until your Bridge's IP address, port, or fingerprint changes).
"The same thing, but made of rainbows and on fire."
As a replacement for Tonga, I am happy to announce that Greenhost has donated hardware and hosting for the new Bridge Authority, Bifröst. Bifröst is a Norse mythological bridge that connects Midgard, the mortal realm, and Asgard, the realm of the gods, and is described in the poem Grímnismál within the Poetic Edda as a burning bridge, constructed out of a rainbow whose end lies upon Himinbjorg, or "Heaven's cliffs." The name was suggested by both our colleagues Alison Macrina of the Library Freedom Project and Moritz Bartl of Torservers.net. Despite the personal temptation to follow Nick Mathewson's suggestion to christen it after that iconic symbol of my home, I could not help but name it Bifröst, because why go with some boring normal thing, when you could have the same thing, but made of rainbows and on fire. RAINBOWS. FIRE. Clear choice.
The Tor Project is incredibly thankful to Greenhost for their generous donation of hardware, hosting, and bandwidth. In particular, I am thankful to my colleagues at Greenhost, Sacha von Geffen and Jurre van Bergen, for all the work they put into the organisation, collaboration, and technical efforts in setting the server up quickly. Working with Greenhost, as always, is a pleasure, and I would give my highest recommendations for Greenhost to those seeking an ethical, friendly, and experienced hosting provider.
Future Research and Hacking
Moving forward, there are several improvements to these systems which could be made, some requiring further research.
We currently don't have any mechanism for testing the bandwidth capacity of bridge relays. Additional design complications may arise when Bridges have their own Guard relays (#7144), e.g. causing fast Bridges which select slower Guards to not utilize their full capacity. This might be navigated by adding support for bridges to do a self-bandwidth test before selecting a guard node.
We also don't currently have anything that tests the reachability of the address/port for any of a Bridge's pluggable transports. Our previous attempts at a distributed/automated Bridge reachability testing system lead me to believe that there is no way to both reliably and securely, i.e., without literally burning the Bridge by attracting a censor's attention to it, test reachability in a distributed manner. Add on top a game of Russian roulette by mixing in N different pluggable transports with varying indistinguishability, authentication, and security properties merely compounds the issue, adding to the likelihood that the secrecy of the best transport a Bridge provides is reduced to that of its worst. That said, thorough analysis of the risks of a centralised system should be made, and there are likely other alternatives. For example, one might attempt to build a system which heuristically crowdsources this information from clients.
There's no legitimate reason to have the Bridge Authority and BridgeDB be separate systems. It would make more sense to break apart the components into those which

receive descriptors
conduct reachability tests
archive all descriptors
access archived descriptors for which Bridges may currently be distributed to clients
distribute Bridges to clients in some manner.

Decentralise the Bridge Authority/BridgeDB systems without simply turning a single point-of-failure into multiple points-of-failure.
Researchers and hackers interested in these problems are welcome and encouraged to contribute. If these problems interest you (or your sufficiently bright, self-directed, and motivated students!), please feel encouraged to contact me and/or our Research Director, Roger Dingledine to discuss ideas and projects moving forward.