New Release: Tor Browser 10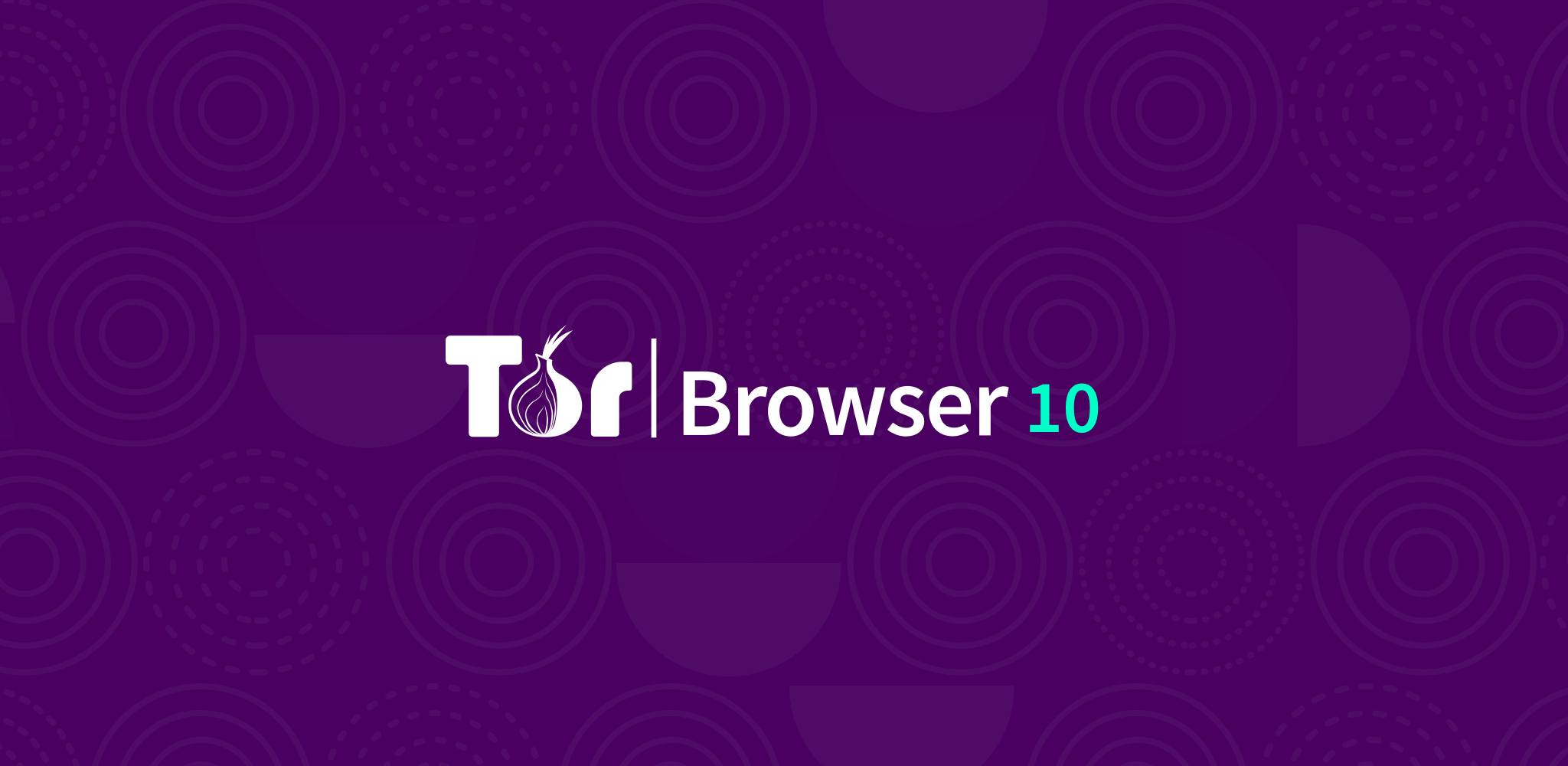 Update 1700 UTC 2020-09-24: After investigating the error seen by Windows users while playing videos on Youtube, a user helped us identify the cause. Until this is fixed in an upcoming release, a workaround is setting media.rdd-opus.enabled as false in about:config.
The new shiny Tor Browser 10 for Desktop is now available from the Tor Browser download page and also from our distribution directory!
Android Tor Browser 10 is under active development and we are supporting the current 9.5 series for Android until the new one is ready. We are informed by Mozilla of any issues they learn about affecting the 9.5 series. We expect to release the new Tor Browser for Android based on Fenix in the following weeks.
Tor Browser 10 ships with Firefox 78.3.0esr, updates NoScript to 11.0.44, and Tor to 0.4.4.5. This release includes important security updates to Firefox.
This new Tor Browser release is focused on stablizing Tor Browser based on a new extended support release of Mozilla Firefox. Tor Browser 10.0 is the first stable release of the 10.0 series based on Firefox 78esr.
Note: Tor Browser 10.0 is the final Tor Browser series supporting CentOS 6. Beginning with the 10.5 series, CentOS 6 is not supported.
Note: In this release JavaScript is controlled by NoScript again. JavaScript was completely disabled on the Safest security level beginning in Tor Browser 9.0.7. The Firefox preference javascript.enabled is reset to true in this release. You must re-set it as false if that is your preference.
Give Feedback
If you find a bug or have a suggestion for how we could improve this release, please let us know. Thanks to all of the teams across Tor, and the many volunteers, who contributed to this release.
Full Changelog
The full changelog since Tor Browser 9.5.4 is:
Windows + OS X + Linux

Update Firefox to 78.3.0esr
Update Tor to 0.4.4.5
Update Tor Launcher to 0.2.25

Bug 32174: Replace XUL <textbox> with <html:input></html:input></textbox>
Bug 33890: Rename XUL files to XHTML
Bug 33862: Fix usages of createTransport API
Bug 33906: Fix Tor-Launcher issues for Firefox 75
Bug 33998: Use CSS grid instead of XUL grid
Bug 34164: Tor Launcher deadlocks during startup (Firefox 77)
Bug 34206: Tor Launcher button labels are missing (Firefox 76)
Bug 40002: After rebasing to 80.0b2 moat is broken
Translations update

Update NoScript to 11.0.44

Bug 40093: Youtube videos on safer produce an error

Translations update
Bug 10394: Let Tor Browser update HTTPS Everywhere
Bug 11154: Disable TLS 1.0 (and 1.1) by default
Bug 16931: Sanitize the add-on blocklist update URL
Bug 17374: Disable 1024-DH Encryption by default
Bug 21601: Remove unused media.webaudio.enabled pref
Bug 30682: Disable Intermediate CA Preloading
Bug 30812: Exempt about: pages from Resist Fingerprinting
Bug 32612: Update MAR_CHANNEL_ID for the alpha
Bug 32886: Separate treatment of @media interaction features for desktop and android
Bug 33534: Review FF release notes from FF69 to latest (FF78)
Bug 33697: Use old search config based on list.json
Bug 33721: PDF Viewer is not working in the safest security level
Bug 33734: Set MOZ_NORMANDY to False
Bug 33737: Fix aboutDialog.js error for Firefox nightlies
Bug 33848: Disable Enhanced Tracking Protection
Bug 33851: Patch out Parental Controls detection and logging
Bug 33852: Clean up about:logins to not mention Sync
Bug 33856: Set browser.privatebrowsing.forceMediaMemoryCache to True
Bug 33862: Fix usages of createTransport API
Bug 33867: Disable password manager and password generation
Bug 33890: Rename XUL files to XHTML
Bug 33892: Add brandProductName to brand.dtd and brand.properties
Bug 33962: Uplift patch for bug 5741 (dns leak protection)
Bug 34125: API change in protocolProxyService.registerChannelFilter
Bug 40001: Generate tor-browser-brand.ftl when importing translations
Bug 40002: Remove about:pioneer
Bug 40002: Fix generateNSGetFactory being moved to ComponentUtils
Bug 40003: Adapt code for L10nRegistry API changes
Bug 40005: Initialize the identity UI before setting up the circuit display
Bug 40006: Fix new identity for 81
Bug 40007: Move SecurityPrefs initialization to the StartupObserver component
Bug 40008: Style fixes for 78
Bug 40017: Audit Firefox 68-78 diff for proxy issues
Bug 40022: Update new icons in Tor Browser branding
Bug 40025: Revert add-on permissions due to Mozilla's 1560059
Bug 40036: Remove product version/update channel from #13379 patch
Bug 40038: Review RemoteSettings for ESR 78
Bug 40048: Disable various ESR78 features via prefs
Bug 40059: Verify our external helper patch is still working
Bug 40066: Update existing prefs for ESR 78
Bug 40066: Remove default bridge 37.218.240.34
Bug 40073: Disable remote Public Suffix List fetching
Bug 40073: Repack omni.ja to include builtin HTTPS Everywhere
Bug 40078: Backport patches for bug 1651680 for now
Bug 40082: Let JavaScript on safest setting handled by NoScript again
Bug 40088: Moat "Submit" button does not work
Bug 40090: Disable v3 add-on blocklist for now
Bug 40091: Load HTTPS Everywhere as a builtin addon
Bug 40102: Fix UI bugs in Tor Browser 10.0 alpha
Bug 40106: Cannot install addons in full screen mode
Bug 40109: Playing video breaks after reloading pages
Bug 40119: Enable v3 extension blocklisting again

Windows
OS X

Bug 32252: Tor Browser does not display correctly in VMWare Fusion on macOS (mojave)

Build System

Windows + OS X + Linux

Bump Go to 1.14.7
Bug 31845: Bump GCC version to 9.3.0
Bug 34011: Bump clang to 9.0.1
Bug 34014: Enable sqlite3 support in Python
Bug 34390: Don't copy DBM libraries anymore
Bug 34391: Remove unused --enable-signmar option
Bug 40004: Adapt Rust project for Firefox 78 ESR
Bug 40005: Adapt Node project for Firefox 78 ESR
Bug 40006: Adapt cbindgen for Firefox 78 ESR
Bug 40037: Move projects over to clang-source
Bug 40026: Fix full .mar creation for esr78
Bug 40027: Fix incremental .mar creation for esr78
Bug 40028: Do not reference unset env variables
Bug 40031: Add licenses for kcp-go and smux.
Bug 40045: Fix complete .mar file creation for dmg2mar
Bug 40065: Bump debootstrap-image ubuntu_version to 20.04.1
Bug 40087: Deterministically add HTTPS Everywhere into omni.ja

Windows
OS X
Linux