Pune, India dgplug Meetup: Learn about Privacy, Tor, and FOSS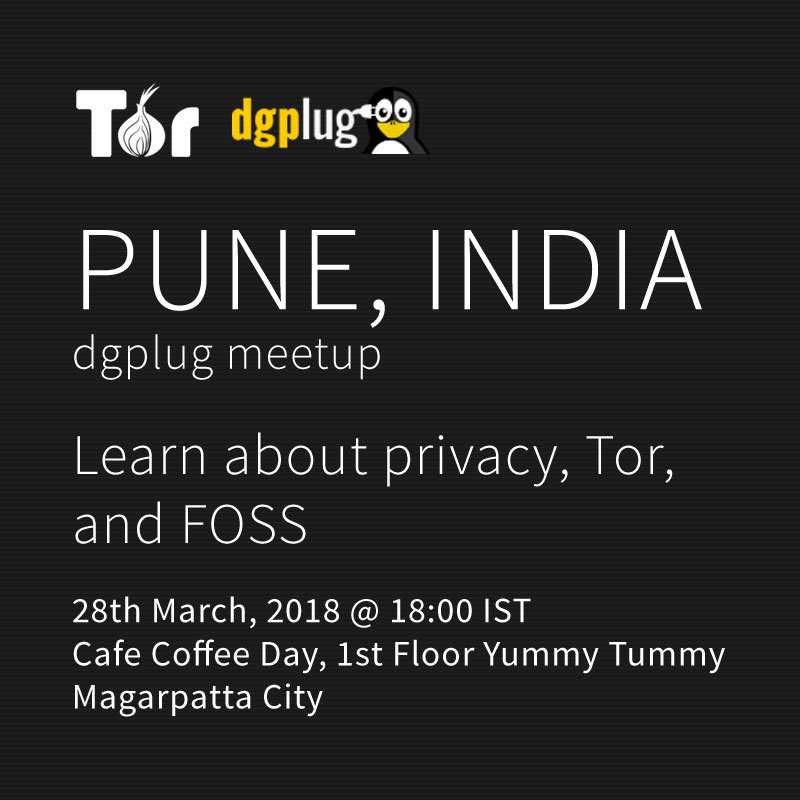 The Linux Users' Group of Durgapur is starting a new monthly meetup in Pune, India. The focus of this meetup is about privacy and Free and Open Source Software (FOSS) communities.
The first meetup will happen on 28th March, 2018, from 6PM, in the Cafe Coffee Day shop in Magarpatta City, Pune. The evening will start with a brief introduction of the participants (if they want to introduce themselves). We have the following topics in mind:
Threat modeling 101.
Passphrases everywhere.
Installation and usage of Tor Browser on laptops and mobile phones.
How to use your Tor Browser in an efficent way?
How can one run a Tor relay?
Secure messaging
As this is our initial meetup, we will be focusing more on helping out any new users with Tor. So if you have questions about Tor or want to get started, please join us. We also want to have a discussion about security practices people follow on the internet and in daily life.
Rather than have formal talks, our goal is to share knowledge among ourselves and make sure that we all can learn something from each other.
There is no admission fee nor RSVP required for this event. Please bring your own mobile Internet connection as we don't have any other network available at the venue.
28th March, 2018 @ 18:00 IST
Cafe Coffee Day, 1st Floor Yummy Tummy
Magarpatta City
Join the dgplug mailing list to learn about the upcoming events and discussions.