Pune, India dgplug Meetup: Tor for Journalists and How Developers Can Help
by kushal | April 13, 2018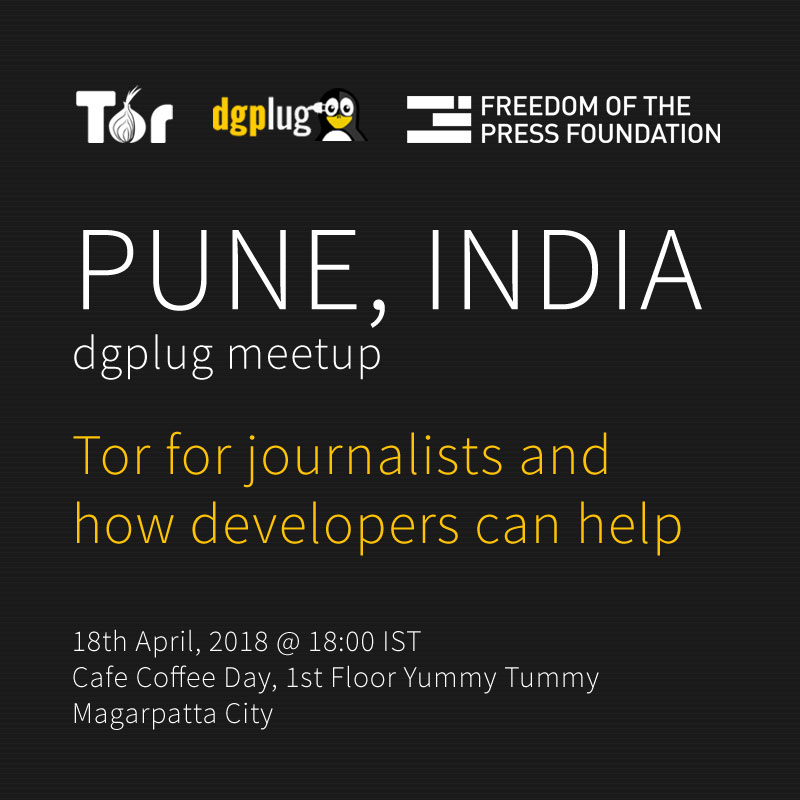 The Linux Users' Group of Durgapur
is doing the second monthly meetup in Pune, India. The focus of this meetup is about teaching journalists, activists and common folks how to use Tor and also to learn how to develop tools using the same technologies.
The meetup will happen on 18th April, 2018, from 6PM, in the Cafe Coffee Day shop in Magarpatta City, Pune. The evening will start with
a brief introduction of the participants
who would like to introduce themselves
. We have the following topics in mind:
* Using Tor browser and related tools
* Using SecureDrop to securely leak information to news organizations
* Developing tools for Tor network in Python and Golang
Tor is free software and an open network which in turn provides privacy and safety to users. Journalists and activists across the world uses Tor to mitigate surveillance, and it allows them to research in a safe manner. It also helps users to access sites which are blocked by ISPs or by the local government. 
In this meetup we will see a live demo of SecureDrop. SecureDrop is an open-source whistleblower submission system maintained by the Freedom of the Press Foundation which utilizes the Tor network. Media organizations can use it to securely accept documents from and communicate with anonymous sources. For developers, we will also discuss how to start contributing to the project.
I
f you
a
re a
journalist or not skilled with technology, we can help you answer any
questions
related
Tor or
how
to get started.
We also
want
to have a discussion about security practices people follow on
the
i
nternet and
in
daily life. We want to speci
fic
ally invite local journalists,
as
there will be a group of volunteers to help you out. If you are student or developer, you can also join and find out different ways to contribute upstream.
Kushal Das, a staff member of the Freedom of the Press Foundation will lead the demo of SecureDrop and discussions around Tor.
Rather than hav
ing formal talks,
our
goal is to share knowledge among ourselves and make sure that we all can learn something from each other.
There is no admission fee nor RSVP required for this event. Please bring your own mobile
i
nternet connection
,
as we don't have any other network available at the venue.
Location:
18th April, 2018 @ 18:00 IST
Cafe Coffee Day, 1st Floor Yummy Tummy
Magarpatta City