Reflections from Our Stockholm All Hands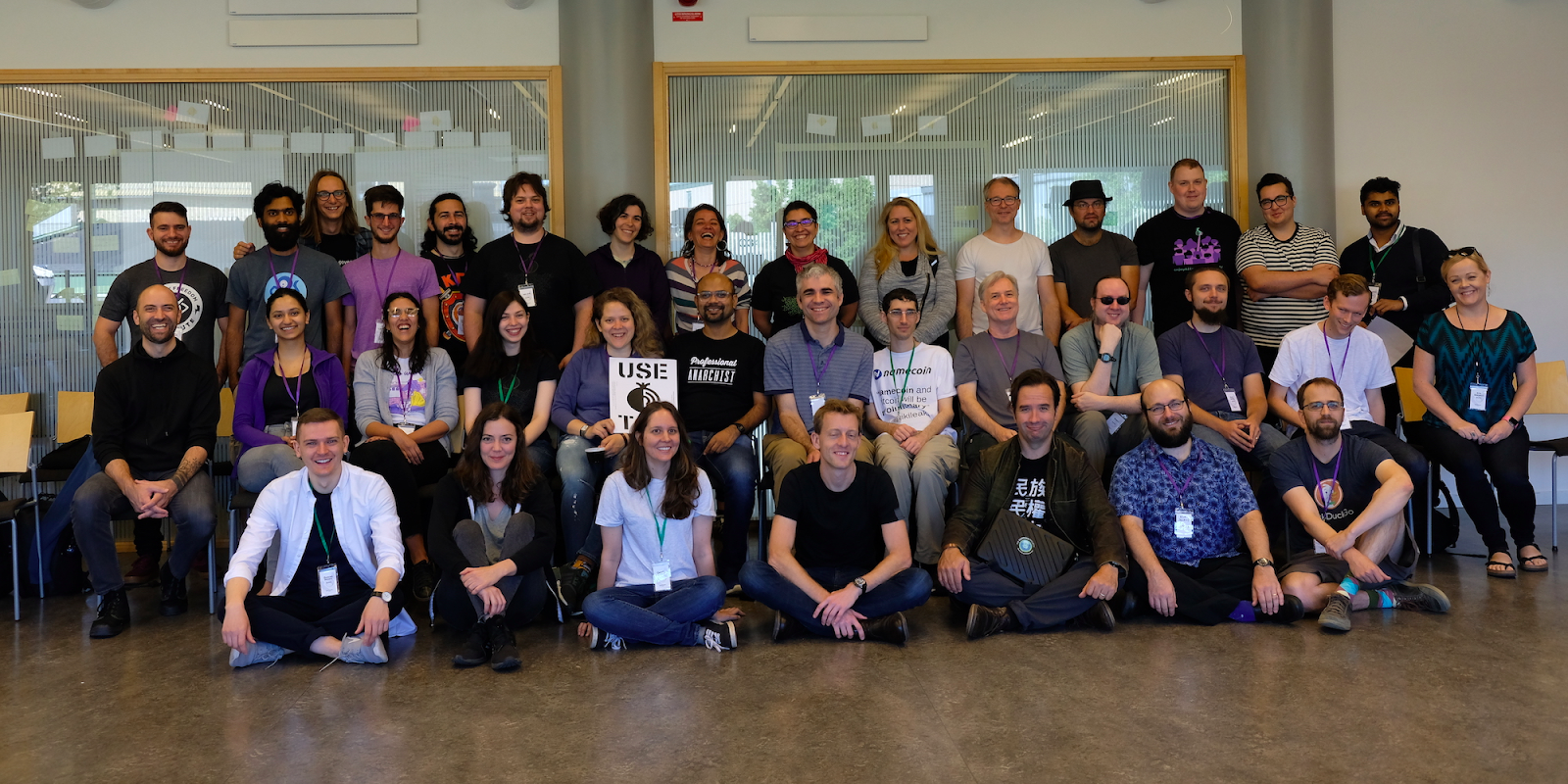 This month, the Tor Project held our biannual all hands meeting, this time in Stockholm, Sweden. During our all hands meetings, we bring together staff, key volunteers, and collaborators from partner organizations like Freedom of the Press Foundation, Tails, the Guardian Project, and Mozilla. Our goal at our all hands meetings is to reflect on the last six months, address challenges and successes, plan our work for the next six months, and have important in-person conversations that are only possible when all teams are in the same location.
For this meeting's location and venue, we relied on one of Tor's biggest strengths--our people.
On the first night in Stockholm, one of our local volunteers organized a 'do it yourself' welcome dinner for all attendees at Kafe 44, a long-standing nonprofit co-op cafe operating as a cultural social center in the heart of Stockholm.
We were also blessed with an amazing donation from KTH Royal Institute of Technology, which let us use their facilities for our three day meeting where we spread out across classrooms and engaged in back-to-back sessions organized and led by peers.
During these three days we had a local collective, Kafé Ingenstans, responsible for our lunch. They only cook vegan food with local ingredients and we had the most amazing food. We were even able to give them a big tip that we heard they will use to buy bicycles for their delivery. They also got connected with Kafe 44 after our welcome dinner and now will be serving food there.
Through partnership with our community and our community's broader connections, we turned limited resources into a safe space to cultivate connections, collaboration, and progress toward the vision and values that we are all working towards at Tor.
We are looking forward to continuing to organize our future meetings this way. We wanted to share a taste of it, so we put together some highlights from each day for you:
Day 1 Highlights
We roadmapped for multiple teams the first day.  This year, the teams were able to do an initial roadmap for projects the first day, aiming to review project plans the last day. Some of the teams held roadmapping sessions together, with the goal of building more collaboration between teams and ensuring that our work is more efficient and effective.
Day 2 Highlights
We talked about meaningful addresses for onion domains. One of the biggest usability barriers to onion services are their difficult to remember URLs. We are hoping to reduce this barrier by building a proof of concept for making these long addresses human-memorable. During this meeting, we brought together various different groups working on solutions for this problem. We watched a couple of demos of three different solutions and decided to continue with our plan to use HTTPSEverywhere to share rulesets for onion addresses.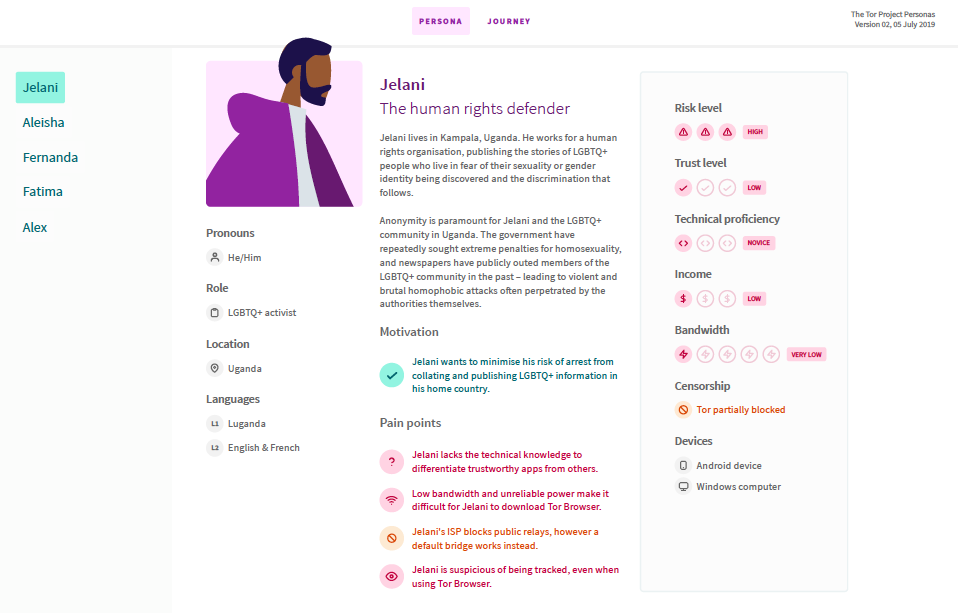 We rolled out Tor personas. As part of our travels in the Global South during 2018 and 2019, we got the chance to meet hundreds of Tor users: from activists to journalists, from highly technical users to those who only use mobile phones, all with different motivations for needing a usable private and secure tool to access the internet. The Community and UX teams have been working on collecting and mapping real user stories and finding patterns across them, and during this meeting, we shared the result--the Tor user personas--with the group.
We talked about organizational systems and processes and how to make them more efficient. With the founding of our sysadmin team, we are formalizing our efforts to improve, monitor, and maintain the internal tools and systems used by the Tor Project's dispersed team. This important work helps all teams communicate better with one another and improves organizational security. (meeting notes)
Day 3 Highlights
We clarified our next steps in Tor network scalability. Making sure that the Tor network can handle an increase in users while improving the quality of the connection is no easy task, and it requires the hard work of multiple teams. We are working on the growth and stability of the Tor network. During this meeting we clarified the next phases in the project to scale the Tor network and started drafting how we will present this work to funders.
We discussed ways to address questions and dispel myths about the so-called dark web. Although this term is sometimes used to talk about metadata free communication online, it's become a dangerous catchall for bad activity on the internet, and it does a huge disservice to an underappreciated technology. We talked through common misperceptions, how to address them, and how to guide the conversation towards the multitude of benefits and use cases of onion services.
We reflected on Tor's place in the climate crisis. The climate crisis is a challenge we are all facing. It was clear we're making an important impact in this work by making it safer to be a climate activist, training climate and environmental activists who need privacy tools to do their work, and creating a pool of open and free training resources. But we see there's more work to do in evaluating our carbon footprint and making organizational choices to reduce it.
We roadmapped fundraising and grant activities for the next six months. After hearing from all of the teams and understanding where their work will take us in the next year, we plotted our grant and fundraising activities more strategically than ever before. Instead of creating new work or inventing new projects, thus overextending our teams, we matched our roadmap to identified opportunities and sponsors.
We closed the meeting by asking ourselves, "What are we taking away from this meeting?"
Several themes appeared: clarity, reinvigoration, gratitude, and the importance of coming together in person so we can return to our homes, ready to tackle the next six months of our roadmaps.