You're Invited: State of the Onion 2020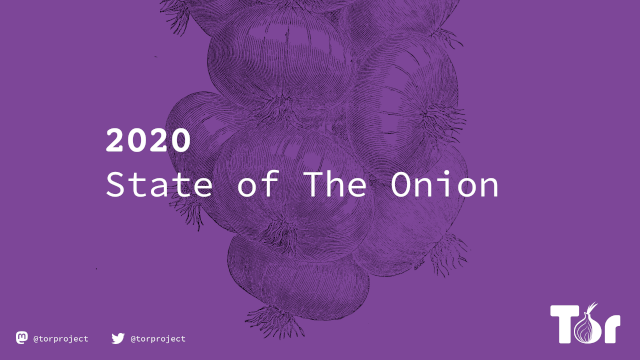 Every year people from the Tor Project communities present the State of the Onion, a compilation of updates from our different projects, at conferences around the world. We use this opportunity to talk about highlights of the work we've accomplished during the year and what we are excited about in the upcoming year.
With COVID-19 pandemic this year, we didn't have the chance to 'tour' our State of the Onion during any face-to-face conferences. So we decided to bring the State of the Onion to you in a special livestream on November 16 from 16:00 - 18:00 UTC.*
We have an awesome, comprehensive program this year, as we want to show off all the work that the Tor Project has been doing as well as highlight the work from people in our community. Isabela Bagueros, our executive director, will host this event and help to provide continuity for everything we'll discuss.
* Show local time for the day-of the event.
Program
Part I — The Tor Project
Topic

Speaker

Details

Tor community

Gustavo Gus

Community Team Lead 

Presentation on the work we've been doing to deliver trainings to communities around the world, how we're adapting this work during the COVID-19 pandemic, as well as how we're building connections with users through the year. 

Tor Browser

 

Matthew Finkel 

Tor Browser Team Lead 

Presentation on the successful migration of Tor Browser desktop and mobile onto Fenix, the newest version of Firefox. 

User experience

Antonela Debiasi

UX Lead & Designer

Presentation on the user experience  improvements we have made in Tor tools during 2020 and what's coming next in 2021.

Onion services

David Goulet 

Network Team Developers

Presentation on onion services improvements we've accomplished in 2020.

Tokens

 

George Kadianakis

Network Team Developer

Presentation on research to implement tokens to improve Tor usability and the results of our work over the last year. 

Tor network performance

Mike Perry

Scalability and Network Performance Lead

Presentation on our efforts to improve performance on the Tor network.

Network simulation

Jim Newsome

Shadow Developer

Presentation on work to improve Shadow, the Tor network simulator used to conduct experiments with potential improvements before making these changes on the live network.

Network Health

 

Georg Koppen

Network Health Team Lead

Presentation on improving the health of the network and watching for bad relays.

Censorship circumvention

Cecylia

Anti-Censorship Team

Presentation on how we have improved Tor as a censorship circumvention tool in 2020 and a preview of what's coming next.

Core tor

Nick Mathewson

Core Tor CTO

Presentation on our efforts to move into an implementation in Rust.

Integration

Alex Færøy 

Network Team Lead

Presentation on work to help third-party developers to integrate tor into their applications and the work we're doing to improve these integrations.
Part II — Tor Community
We have also invited other projects who are part of the Tor community to present and share their updates.
Kushal Das

SecureDrop Developer

Presentation on recent SecureDrop improvements and the collaboration with Tor to create proof-of-concept human-memorable names for SecureDrop onion services addresses.

Alison Macrina

Leads the Library Freedom Project

Presentation on LFP's work to bring privacy to the librarians, libraries, and their communities. 

Richard Pospesel

Ricochet Developer

Presentation on work to revamp Ricochet and the use of v3 onion services. 

Maria Xynou 

OONI's Partnership Program - Manager

Presentation on the status of Internet censorship around the world and OONI's work to measure it.

Nathan Freitas

Founder of the Guardian Project

Presentation on the Guardian Project's work to integrate Tor and Snowflake into their applications.

Micah Lee

OnionShare Developer

Presentation on new features coming up for OnionShare.
The State of the Onion will be streamed on the Tor Project's YouTube, Facebook, and Twitter accounts.
You can join the conversation in two ways: use the Twitter hashtag #UseAMaskUseTor or by using the live chat feature on the YouTube stream.
This event is part of our year-end fundraising campaign. You can support the Tor Project's work to resist the surveillance pandemic by making a donation today. Your donation will be matched, 1:1, by Friends of Tor. We couldn't do the work we're sharing at this year's State of the Onion without your support!