You're Invited: State of the Onion 2021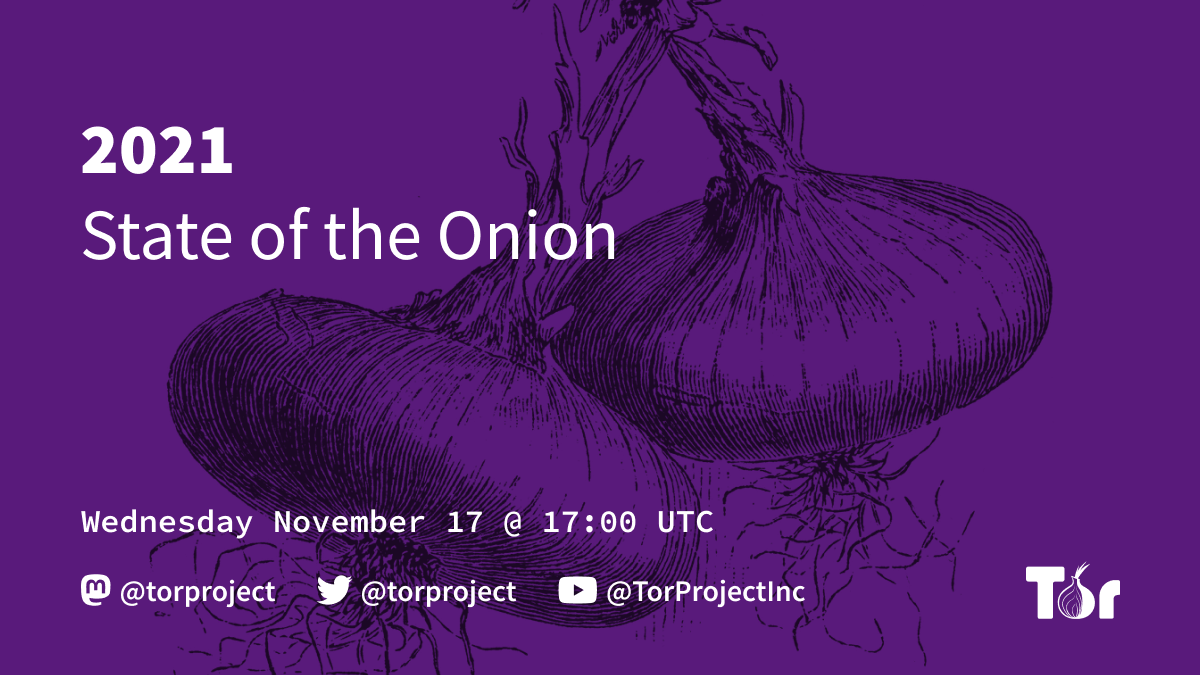 Last year, we held our first 100% virtual State of the Onion, a compilation of updates from the Tor Project's different teams discussing highlights of their work during the year and what we are excited about in the upcoming year. Our 2020 State of the Onion was our first time doing livestream iteration, and it was not only a great success because it allowed us to reach thousands of people all around the world, but also because it allowed for more projects from our community to participate, giving an opportunity for them to also share their updates.
We are happy to announce that we will be hosting our 2021 State of the Onion livestream on November 17 from 17:00 - 19:00 UTC.
This year we have another exciting program for you. Following last year's program structure, we will start with updates from the Tor Project's teams followed by updates from people in our community. Isabela Bagueros, our executive director, will be our host for the event.
Program
Note: More details about each session will be posted on the Tor Forum discussion post related to the 2021 State of the Onion.
Opening — Isabela Bagueros, Executive Director
Part I — The Tor Project
Censorship Circumvention, Cecylia
Applications & Tor Browser, Richard
UX Team, Duncan
Applications & VPN, Matt Finkel
Community Team, Gus
Network Health, GeKo
Metrics, Hiro
Shadow, Jim Newsome
Tor network, little "t" tor, Mike/ahf
Arti, Nick Mathewson
TPA, Anarcat
Year End Fundraising, Al
Intermission — Roger Dingledine, Co-Founder
Part 2 — Tor Community
We have also invited other projects who are part of the Tor community to present and share their updates.
The State of the Onion will be streamed over our YouTube, Facebook, and Twitter accounts.
You can join the conversation on Twitter using the hashtag: #StateOfTheOnion2021, or post your questions and comments in the Youtube chat.