Strength in Numbers: The Final Count Is In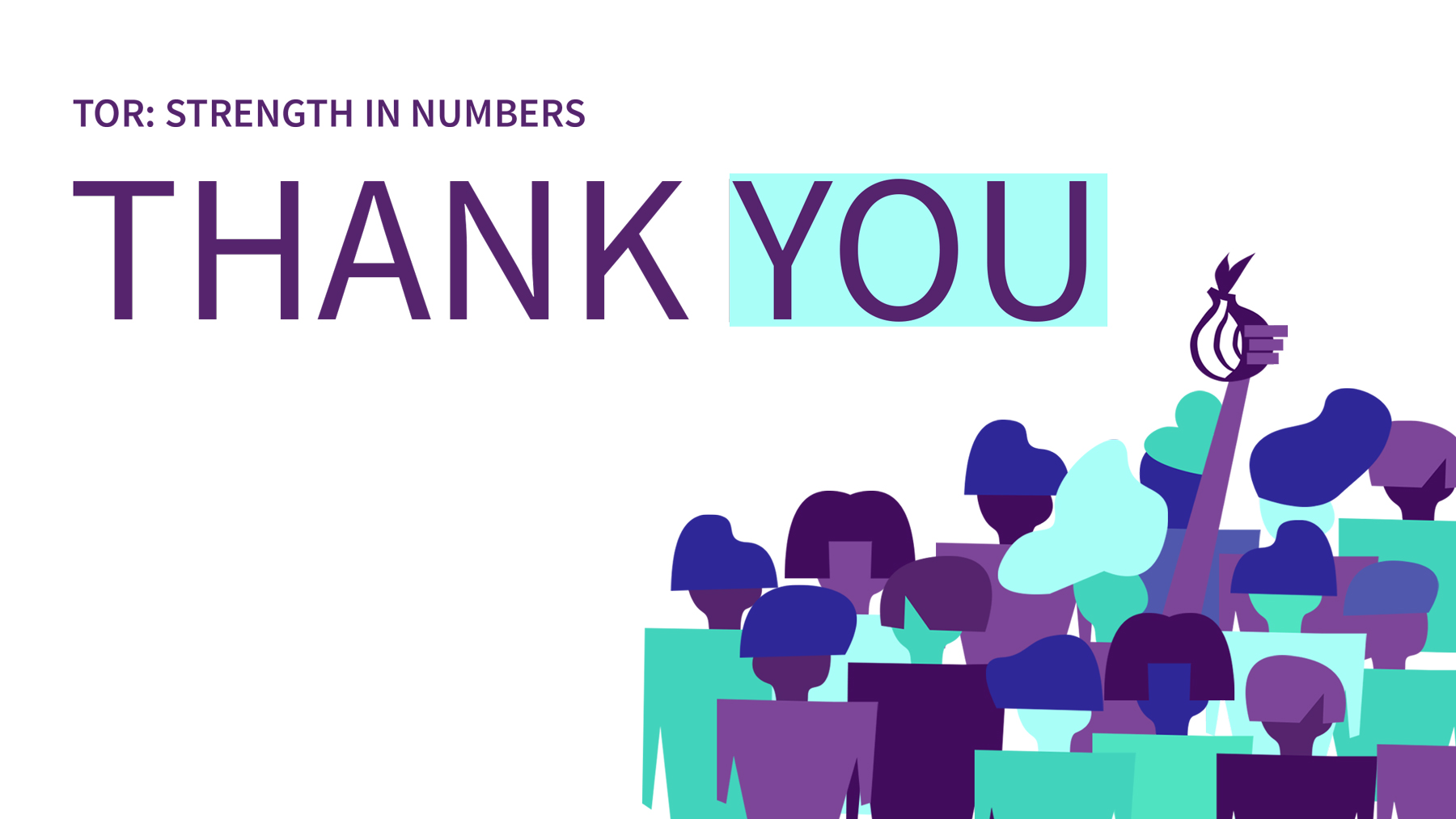 One of the Tor Project's ongoing goals has been to diversify our funding sources. We are pleased to announce that in 2018, we raised over $460,000 from individuals like you who use Tor for your personal privacy and who understand the importance of making Tor available to everyone. Together, we raised more donations from individuals than ever before.
Almost half of our total income from individuals in 2018 was raised during our year-end campaign. There truly is strength in numbers. Every donation--whether it is $2 or $1,000--supports us on the ground speaking with activists, journalists, and internet users in countries all over the world, teaching them about Tor and online security, and supports Tor's development, helping us keep Tor the world's strongest tool for privacy and freedom online. Thanks to Mozilla's generous match, each gift made between October 23 and December 31 was matched.
In addition to Mozilla's match, a generous anonymous donor offered to match all new donor contributions up to $20,000. This challenge was met in less than 20 days and, throughout the entire campaign, we received gifts from 2,029 new donors who gave more than $97,000.
Tor users are from all over the world, and so are our donors. In 2018, people from 115 countries came together to take a stand against tracking, surveillance, and censorship on the web by supporting the Tor Project.
During the campaign alone, we gained 100 new monthly donors! Sustaining gifts provide the Tor Project with steady, reliable income that is essential to our ability to respond quickly to unexpected challenges and threats.
Beyond raising the income we need to carry out our work, this year-end campaign was an opportunity to reflect on the ways in which people have come together to fight for privacy. We featured stories about how Tor Project staff members work directly with librarians, Tor users in at-risk communities, human rights defenders in communities experiencing internet censorship, and developers of applications that rely on Tor's technology. We wrote about how we are constantly working to diversify the Tor network to increase sustainability and ensure users are more secure. We wrote about our efforts to localize our tools and resources, moving closer to our overarching goal of making Tor accessible to everyone.
We are so grateful to everyone who financially supported the Tor Project in 2018. As Isabela Bagueros said in her first blog post as Executive Director, donations from individuals allow us to "easily allocate resources to whatever important events that requires our response, and reorder our priorities whenever needed. This is extremely important for any software development organization, especially one that provides essential safety to people in volatile locations like Tor." And your support counts all throughout the year, not just during our campaign.
Some big tech companies rely on invasive practices to gather, and subsequently sell, your data--and that's how they generate their revenue. By donating to the Tor Project, you are supporting an alternative model, where personal privacy is of utmost importance.
You make a difference. You make a better internet possible. Thank you.
Sincerely,
The Tor Project Fundraising Team