Strength in Numbers: Internet Freedom Is on the Line

*Note: The Tor Project's postal address has changed since this post was published. Find the most current address in our FAQ.
This post is one in a series of blogs to complement our 2018 crowdfunding campaign, Strength in Numbers. Anonymity loves company, and the internet freedom movement is stronger when we fight together. Please contribute today, and your gift will be matched by Mozilla.
---
The Tor Project believes that everyone should have private access to an uncensored web, but digital authoritarianism is on the rise. For the 8th year in a row, internet freedom has declined around the world, including in the United States.
"Of the 65 countries assessed, 26 have been on an overall decline since June 2017," reveals a new report by Freedom House.
A huge factor in this decline is government censorship, a growing problem in many countries. Freedom to publish, share, and access information online is critical for a healthy society, yet governments and entities around the world are denying people this universal human right, and their tactics for doing so are becoming more advanced.
In many countries around the world, people are only permitted to access state-sponsored news, where the stories always spin a nation's government and leadership in favorable lights.
Internet controls in China have reached new extremes, and China is exporting its methods to other governments. China, Egypt, Iran, Venezuela, Ethiopia, Turkey, and a few other countries now block the Tor network.
Amazon and Google shut down domain fronting, a once reliable tactic used by many pluggable transports to access the Tor network when it is blocked.
These developments make our work more important than ever. That is why in 2018 we worked hard to keep the Tor network secure and strong. We made Tor Browser more user-friendly and localized it into 9 additional languages (for a total of 24). We brought Tor Browser to mobile with the alpha version of Tor Browser for Android, which has already been installed over half a million times. We traveled to different countries to meet at-risk communities and provided them with digital security training.
We are determined to reach even more people in need.
 
Tor Browser protects against tracking, surveillance, and censorship, and we think everyone, no matter where they are in the world, should be able to use it and enjoy their universal human rights to privacy and freedom.
We're in a race with the censors. They are getting more sophisticated, and so must we.
We improved our bridge-fetching system with the launch of Tor Browser 8, so it's easier to access Tor where it is blocked, but we aren't stopping there. We are forming an anti-censorship team to take this work to the next level. Our goal is for people in countries where Tor is blocked to be able to browse freely, privately, and safely.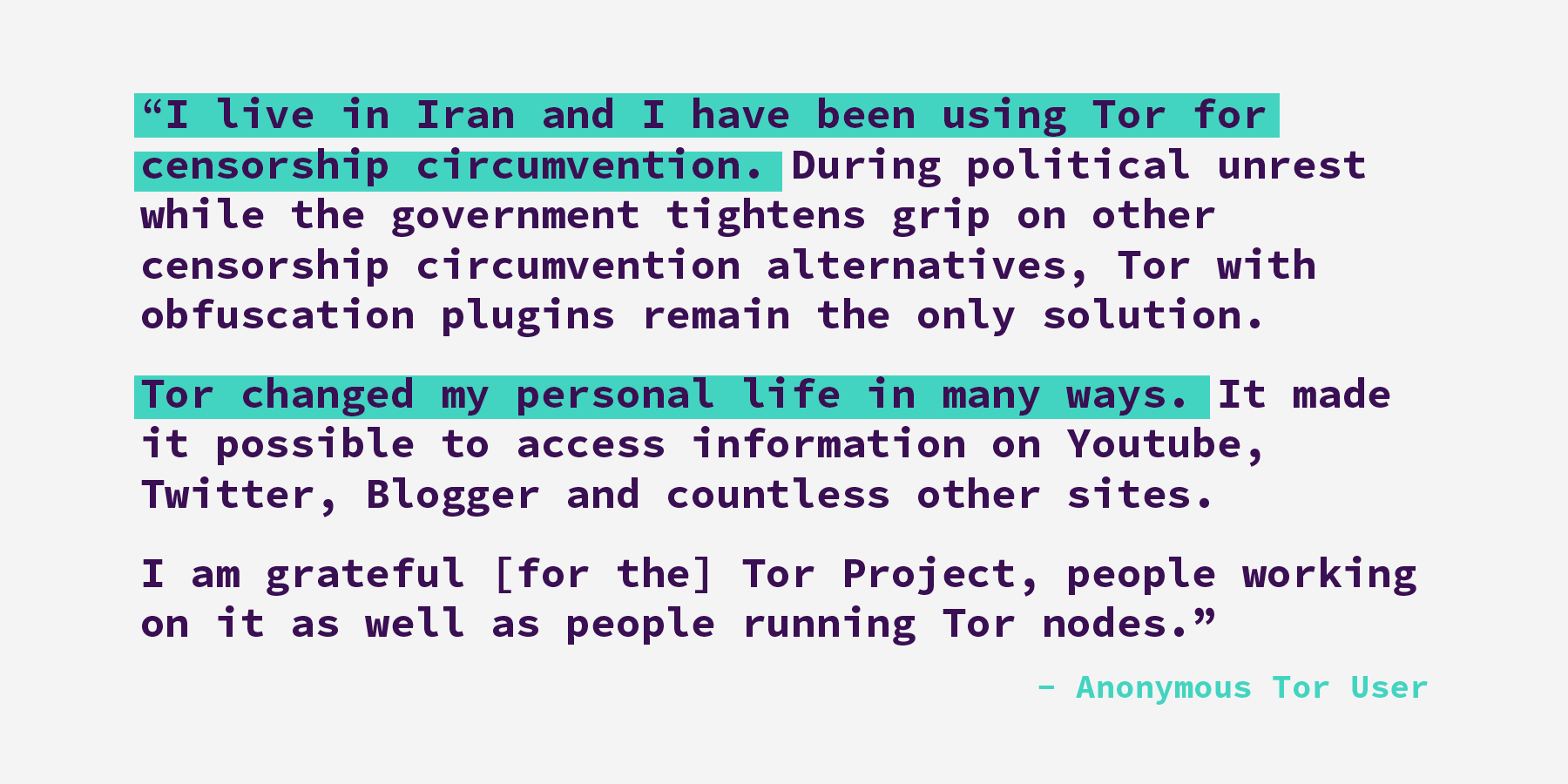 Our mission is bold, but we can't do it alone. There is strength in numbers. Please join us in this fight for internet freedom and help us equip more people with the ability to circumvent censorship.

Tor is the strongest tool for privacy and freedom online, and your donation will help us make our circumvention methods stronger and reach the people who need it most. Donate today, and Mozilla will match your donation.