We're Upping Our Support to Mobile Browsing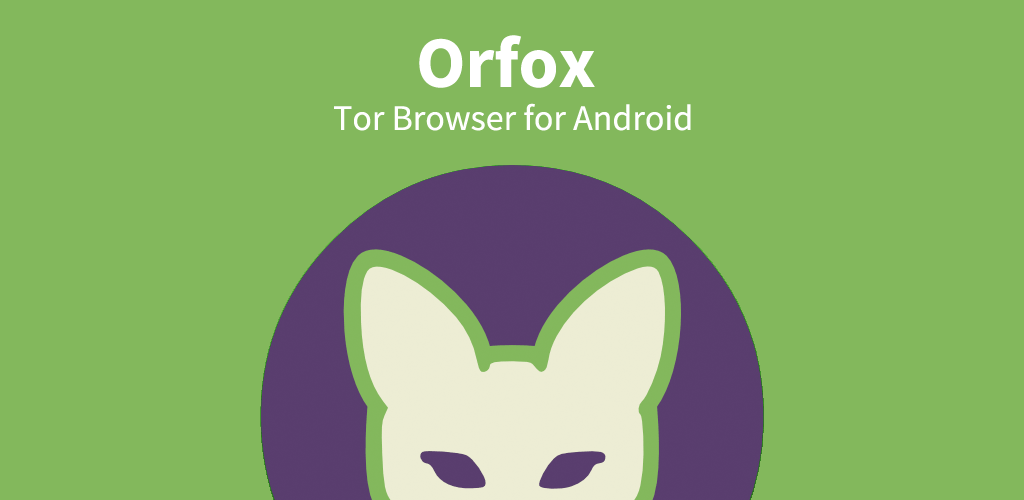 The Tor Project has always fought for freedom of speech and open access to the internet. To do so, it's essential for us to reach people in areas in the world with heavy online surveillance and censorship, especially those in the Global South. 
Most people in these regions only use smartphones to access the internet, and we want to better support these users. So we developed a strategy to do better for folks who have low-bandwidth connections, limited data plans, or who can only connect to the internet through low-end devices.
Eleven percent of smartphone usage around the world in 2014 was mobile browsing, so we knew giving better support to a mobile browser would be critical to this strategy.
Around a year ago, folks from the Tor Project and the Guardian Project met to discuss the future of Tor Browser on mobile devices. The discussion began with Orfox, a Google Summer of Code (GSoC) project for mobile browsing over the Tor network. Since then, we have been working towards Orfox having similar functionality and security guarantees as Tor Browser for desktop. 
How we're bringing Orfox on par with Tor Browser 
Our first improvement was to port the Security Slider from Tor Browser desktop to Orfox. To adapt this feature from a desktop application into a mobile application, we had to change how the UI works for the mobile screen.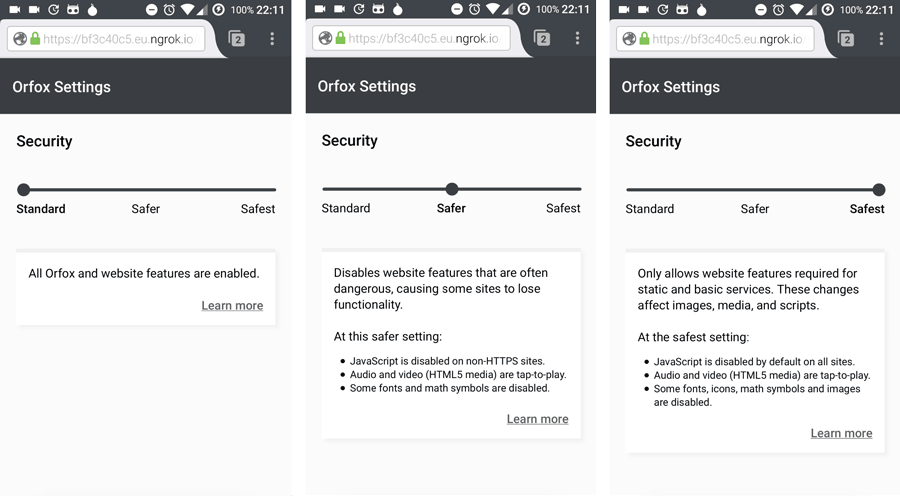 The Security Slider lets you customize your browsing experience according to the security level you want to have when accessing sites. The higher the level, the more things Tor blocks to give you more security. This also changes your experience of the site. For instance, the site might not show "new posts" notifications on Twitter's timeline because it has blocked javascript. It also may not load and play a video because some of the required scripts could be used by a skilled adversary to reveal identifying information about you. 
The UX Team and the Guardian Project collaborated on this effort iterating on mockups and reviewing UI copies, until there was a version everyone felt was good enough to be build. Once it was up and running as a beta, the UX Team ran a validation test to see if this interface and copy made sense to users. With the help of Amogh, an Orfox developer, we tested our UI with 12 users in India and 3 others in the U.S. We used this feedback to improve our copy and iterate on the slider UI.
This was the first time Tor did a full development cycle following UX best practices, such as being involved with the conceptualization of the UI and performing user testing to validate our hypothesis. Since we don't collect data on user behavior, we had to build a testing methodology so our community could help us perform these tests with our users. We are now applying UX best practices to all of our development cycles.
Try Out the New Slider 
The newest version of Orfox is available from the Google Play store or download the apk installation file from our git repo or get it at F-Droid store. If you use Android, download it or update your current app to check it out. To see what we discussed here, open the settings menu and scroll down to  the 'Orfox Settings' option.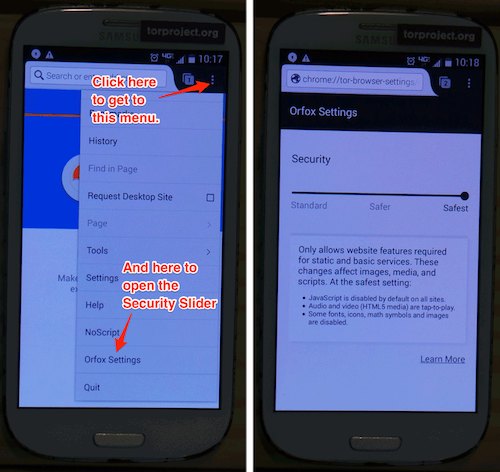 As always, we want your feedback! You can use the comments below.
There's more to come 
Mobile is becoming a core part of our development thinking at Tor. We will continue to work with Orfox, and when the Tor Browser Team comes up with a new feature, we'll be thinking how we can make it work on mobile as well. We'll keep publishing updates like this about our efforts to improve mobile experience, especially for those in the Global South. 
A big thank you for the folks who worked on this project: Amogh Pradeep, Thomas Rientjes, Linda Lee, Nathan Freitas and Georg Koppen. o/