This is What a a Tor Supporter Looks Like: Susan Landau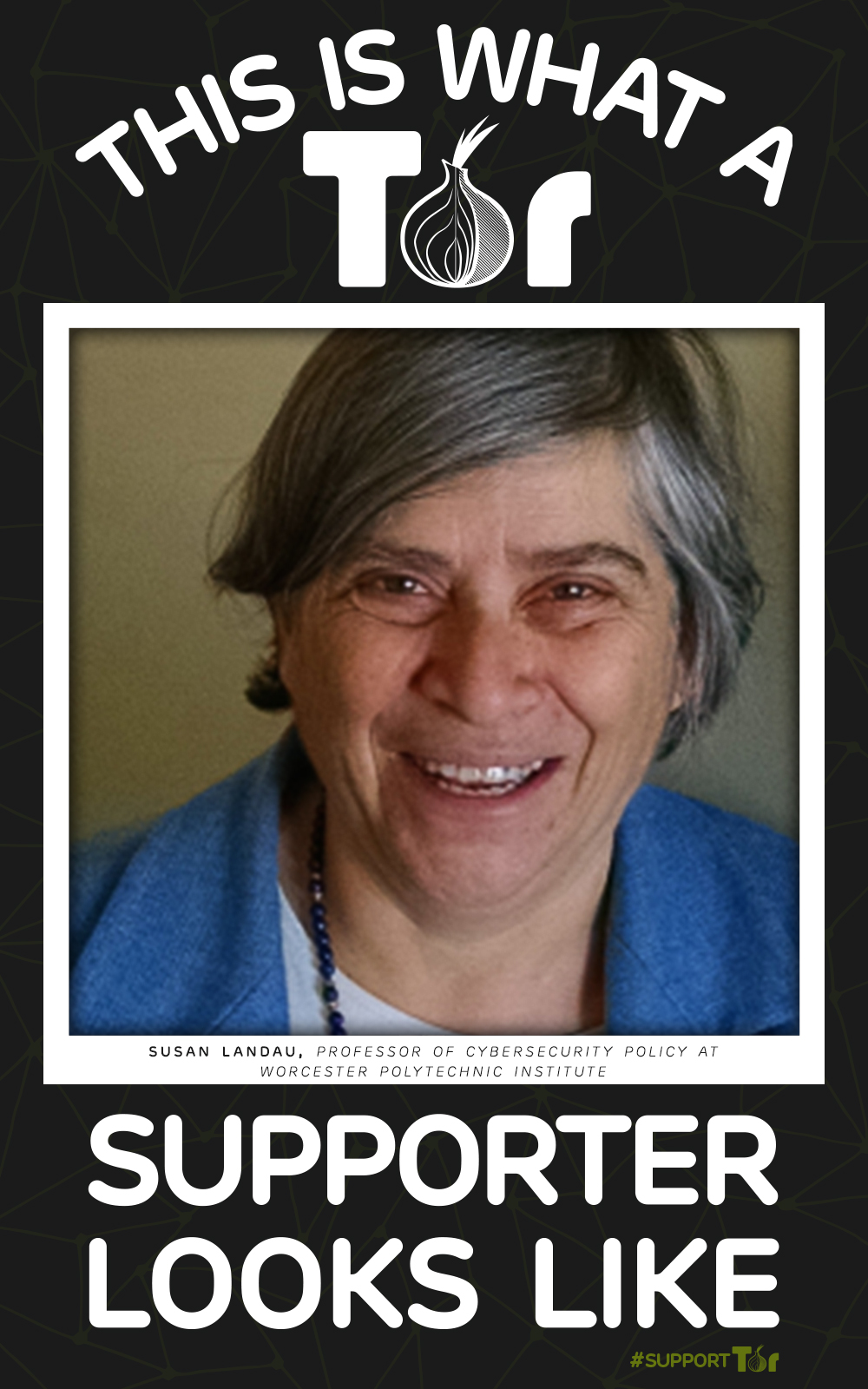 "Communications metadata is remarkably revelatory. Just knowing what number you communicated with, when, and for how long can reveal whether you are having a flare-up of MS, seeking an abortion, or thinking about growing marijuana plants commercially. All of this comes from the numbers you call, and not what you say. It's why keeping communications metadata private is so important.
"Tor protects such data. It's not just journalists who need such privacy. It's human rights workers (that's why the State Department supports Tor), law-enforcement investigators checking out questionable sites, the businessperson collecting data to make decisions, the worker checking AIDS information or Alcoholics Anonymous over lunch hour on her private device but using her company's ISP. In a world of increasing surveillance, there's increasing need for Tor.
"I first began using Tor regularly in 2012 when I taught a freshman seminar in privacy. For one assignment I asked my students to try Tor and write a customer review. Tor was very clunky then. The fact that you couldn't simultaneously use Tor and the Firefox browser seriously diminished usability for me.
"Tor has much improved. The program runs faster, it is more secure, and there's greater functionality, including the ability to simultaneously use Tor and Firefox. I am delighted, but more is needed. We live in a world of pervasive surveillance, and Tor provides an essential service. Give generously and give often so that we can protect a modicum of private space in our increasingly public world. The privacy you protect may be your own."
—Susan Landau
@ Susan and Nick:
Anyone fighting in the trenches of CryptoWar II will be intrigued by Glenn Greenwald's decision (apparently after talking to Matthew Green) to unredact a portion of a Snowden leaked document first published in Jun 2013 with a critical portion inked out at the insistence of NSA:
https://theintercept.com/2016/01/04/a-redaction-re-visited-nsa-targeted…
A Redaction Re-Visited: NSA Targeted "The Two Leading" Encryption Chips
Glenn Greenwald
4 Jan 2015
> Prior to publication of the story, the NSA vehemently argued that any reporting of any kind on this program would jeopardize national security by alerting terrorists to the fact that encryption products had been successfully compromised. After the stories were published, U.S. officials aggressively attacked the newspapers for endangering national security and helping terrorists with these revelations.
> ...
> The issue of this specific redaction was raised again by security researchers last month in the wake of news of a backdoor found on Juniper systems, followed by The Intercept's reporting that the NSA and GCHQ had targeted Juniper. In light of that news, we examined the documents referenced by those 2013 articles with particular attention to that controversial redaction, and decided that it was warranted to un-redact that passage. It reads as follows:
John Young of Cryptome has been arguing for years that *all* the Snowden documents should be published in full, with *no* redactions. I understand by GG has not done that, but I also think all editorial decisions to redact portions should be frequently revisited and reversed as soon as new developments warrant such a step.
I'd love to hear from Edward Snowden, Micah Lee, Matthew Green, Bruce Schneier, Susan, Nick, etc, their thoughts on what additional light if any is shed on the NSA's covert encryption-crippling programs by the newly unredacted portion of the previously published document.