New Release: Tor Browser 8.0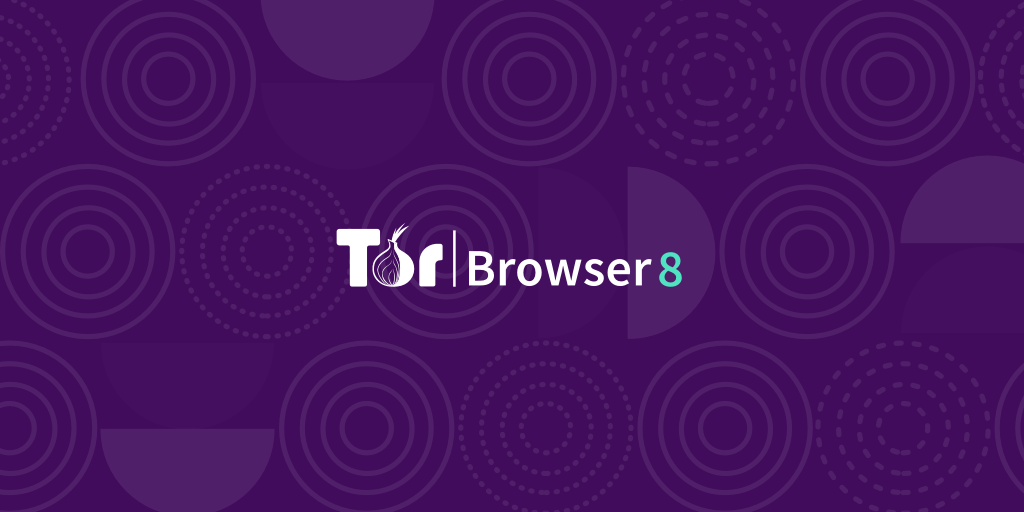 Update (09/07 10:15 UTC): We received reports of Tor Browser 8.0 crashing during start-up on older (10.9.x) macOS systems. This is tracked in bug 27482. The current Tor stable version, 0.3.3.9, is missing a patch to make it compatible with that old and unsupported (by Apple) macOS version. This will be fixed in the planned Tor Browser 8.0.1 release. Meanwhile, users affected by this bug can try the almost identical alpha release, 8.5a1, which is shipping a newer Tor version with this bug fixed. Sorry for the inconvenience.
For the past year, we have been collecting feedback on how we can make Tor Browser work better for you.
Tor Browser 8.0, our first stable release based on Firefox 60 ESR, is now available from the Tor Browser Project page and also from our distribution directory. This release is all about users first.
Tor Browser 8.0 comes with a series of user experience improvements that address a set of long-term Tor Browser issues you've told us about. To meet our users' needs, Tor Browser has a new user onboarding experience; an updated landing page that follows our styleguide; additional language support; and new behaviors for bridge fetching, displaying a circuit, and visiting .onion sites.
New User Onboarding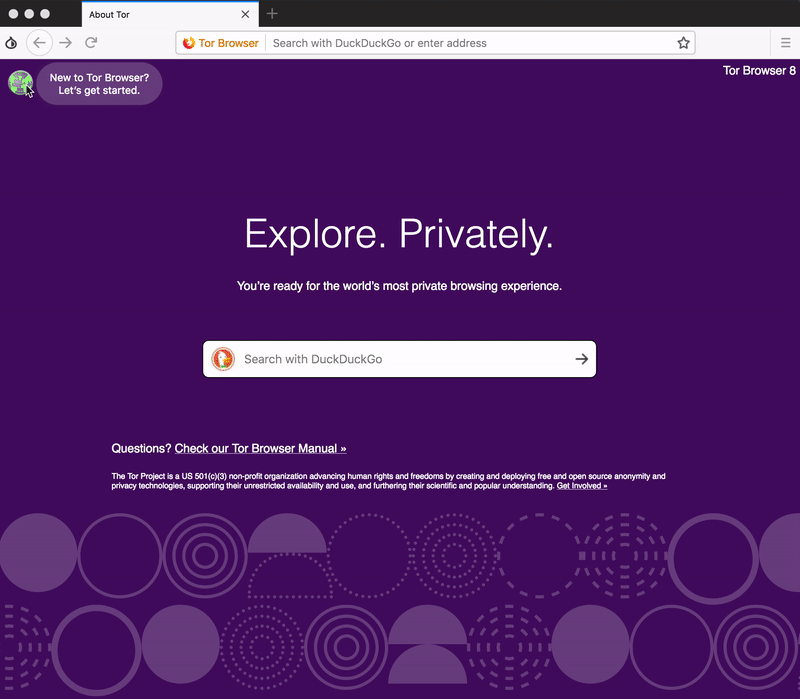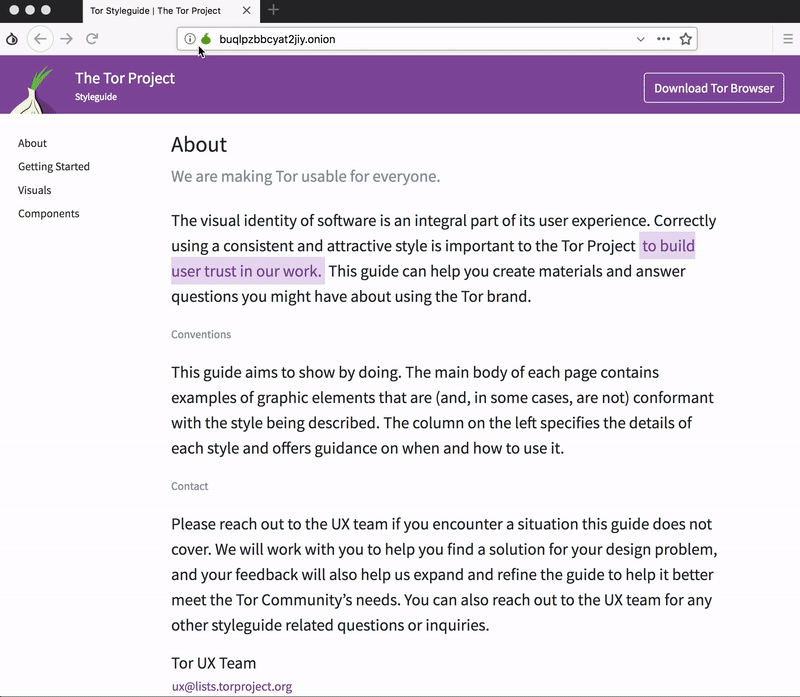 For the most part, using Tor is like using any other browser (and it is based on Firefox), but there are some usage differences and cool things happening behind the scenes that users should be aware of. Our new onboarding experience aims to better let you know about unique aspects of Tor Browser and how to maximize those for your best browsing experience.
Improved Bridge Fetching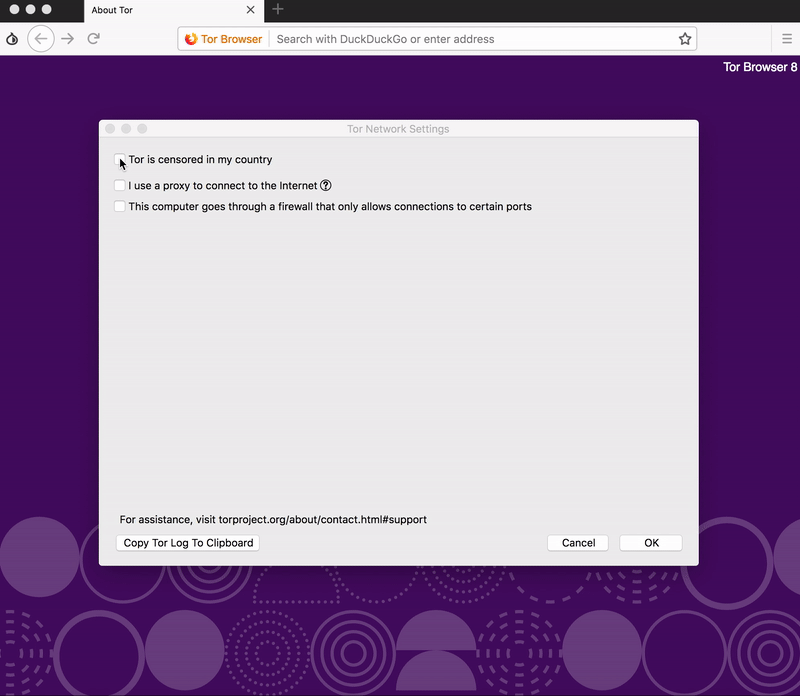 For users where Tor is blocked, we have previously offered a handful of bridges in the browser to bypass censorship. But to receive additional bridges, you had to send an email or visit a website, which posed a set of problems. To simplify how you request bridges, we now have a new bridge configuration flow when you when you launch Tor. Now all you have to do is solve a captcha in Tor Launcher, and you'll get a bridge IP. We hope this simplification will allow more people to bypass censorship and browse the internet freely and privately.
Better Language Support
Millions of people around the world use Tor, but not everyone has been able to use Tor in their language. In Tor Browser 8, we've added resources and support for nine previously unsupported languages: Catalan, Irish, Indonesian, Icelandic, Norwegian, Danish, Hebrew, Swedish, and Traditional Chinese.
Apart from those highlights, a number of other component and toolchains got an update for this major release. In particular, we now ship Tor 0.3.3.9 with OpenSSL 1.0.2p and Libevent 2.1.8. Moreover, we switched to the pure WebExtension version of NoScript (version 10.1.9.1) which we still need to provide the security slider functionality. Additionally, we start shipping 64bit builds for Windows users which should enhance Tor Browser stability compared to the 32bit bundles.
Providing this many improvements for our users could only be possible with collaboration between the Tor Browser team and Tor's UX team, Community team, Services Admin team, and our volunteers. We would like to thank everyone for working hard over the past year to bring all these new features to our users.
Known Issues
We already collected a number of unresolved bugs since Tor Browser 7.5.6 and tagged them with our ff60-esr keyword to keep them on our radar. The most important ones are listed below:
WebGL is broken right now.
We disable Stylo on macOS due to reproducibility issues we need to investigate and fix. This will likely not get fixed for Tor Browser 8, as we need some baking time on our nightly/alpha channel before we are sure there are no reproducibility/stability regressions. The tentative plan is to get it ready for Tor Browser 8.5.
Note: This release is signed with a new GPG subkey as the old one expired a couple of days ago. You might need to refresh your copy of the public part of the Tor Browser signing key before doing the verification. The fingerprint of the new subkey is 1107 75B5 D101 FB36 BC6C 911B EB77 4491 D9FF 06E2.
Give Feedback
This is only the beginning of our efforts to put users first. If you find a bug or have a suggestion for how we could improve this release, please let us know.
Changelog
The full changelog since Tor Browser 7.5.6 is:
How can we now prevent pages to reload themselves? This preference was removed with this release and I failed to find any about:config setting that would do the job, is there any?
When posting a comment, the page gets reloaded in a loop every couple of seconds, forever. Stopping and reloading manually does not help. I deleted the set of cookies, cache, active connexions and offline data, only then I could load the page normally again. Not sure if the comment was submitted, so I repeated, also after a fresh application restart and this appears reproducible (third time in two comments). This might be yet-another-unrelated-bug, but not being able to prevent automatic reloading is an issue (also) in this case.
I would regard this as a massive user experience regression, especially for with few hardware resources or little/unreliable bandwitch. Quite a few sites are abusing this "feature", e.g. to update the set of adverts they serve, or whatever other reason.
Same stand for NoScript automatic reloading after amending site preferences one way or another: until this release, it was possible to change them and not reload the page automatically, until we (the User) decided to reload the page whenever we see fit. This was also precious while disabling some permissions after contents had been fetched: terminating javascript execution, without loosing the resulting rendering.
This alone gives me a very frustrating UX on this release. :/
What preference was that in previous releases?
Thanks for forcing me to complete my homework :)
For NoScript itself, we had a clear option in the GUI and I think the preference was noscript.autoReload (default: true), I had that orphan setting in my profiles after upgrading. That functionality seems to have been entirely dropped: no GUI option, reload are now automatic when exiting the dynamic menu, if any permission was changed (no matter if added or removed).
For site refreshes on the Mozilla side, GUI option was under Accesibility and named "Warn me when websites try to redirect or reload the page". This one has been removed but the preference is still there and active, sorry: accessibility.blockautorefresh (default: false).
What happens is that it is less effective as the time goes. Feature itself may (?) have been limited to accomodate Google Translate or others, and/or more and more sites apparently use other techniques, even without javascript. Still effective with e.g. OpenWRT landings with luci-ssl, see also the test page linked below. Now helpless with e.g. Panopticlick redirects, your Drupal comment post bug here on Tor Blog, and too many sites to my taste.
Mozillazine: http://kb.mozillazine.org/Accessibility.blockautorefresh
GTranslate: https://bugzilla.mozilla.org/show_bug.cgi?id=1386910
Test page: http://www.searchtools.com/test/redirect/
Tutorial: https://techdows.com/2017/10/firefox-56-warn-me-when-websites-try-to-re…
Genesis: https://bugzilla.mozilla.org/show_bug.cgi?id=465303
I had tested various redirect blockers from AMO, had most of them disabled in one of my Firefox profiles, but they all appear obsolete since the WebExtensions move (didn't search again, just yet).