Rompiendo barreras de censura, incluso cuando Tor está bloqueado
Mientras que el navegador Tor provee muchas propiedades de seguridad y privacidad, no todas las personas alrededor del mundo tienen el lujo de poder conectarse a la red para utilizarla. Por defecto, el navegador Tor hace que todos los usuarios conectados luzcan iguales, burlando a tu UserAgent (y otros métodos) para prevenir ataques de reconocimiento de huellas digitales. Sin embargo, no oculta el hecho de que estás conectado a la red Tor, una red abierta en la que todos pueden tener acceso a la lista de nodos (relays). Esta transparencia de la red tiene muchos beneficios, pero también cosas negativas: Muchos gobiernos represivos y autoridades gubernamentales se benefician al bloquear a los usuarios de tener un acceso a internet abierto y libre. Simplemente, toman la lista de relays y los bloquean. Esto impide que millones de personas accedan a información libre, incluso aquellos que más lo necesitan. A nosotros en Tor, nos preocupa la libertad de acceso a a información y nos oponemos a la censura firmemente. Por eso es que desarrollamos métodos para conectar a la red y saltar la censura. Este método se llama Transportes Intercambiables (Pluggable Transports (PTs))
Los Transportes Intercambiables son un tipo de puente para conectarse a la red Tor. Tienen la ventaja de que aprovechan varios transportes y hacen que el tráfico encriptado de Tor parezca tráfico poco interesante o basura. A diferencia de los relays normales, la información del puente se mantiene oculta y se distribuye entre los usuarios a través de BridgeDB. Si estás interesado en ayudar a los usuarios censurados, puedes convertirse en un operador puente. Y si sos un desarrollador y tenés ideas interesantes sobre cómo hacer nuevos PT o contribuir con un código, tenemos documentos para ponerte al día.
Y finalmente, si sos un usuario censurado y querés usar los PT, tenemos buenas noticias. Los PT's ya están incluidos en el navegador Tor y este gráfico te muestra cómo hacerlo y te ayudará a configurarlo para eludir la censura.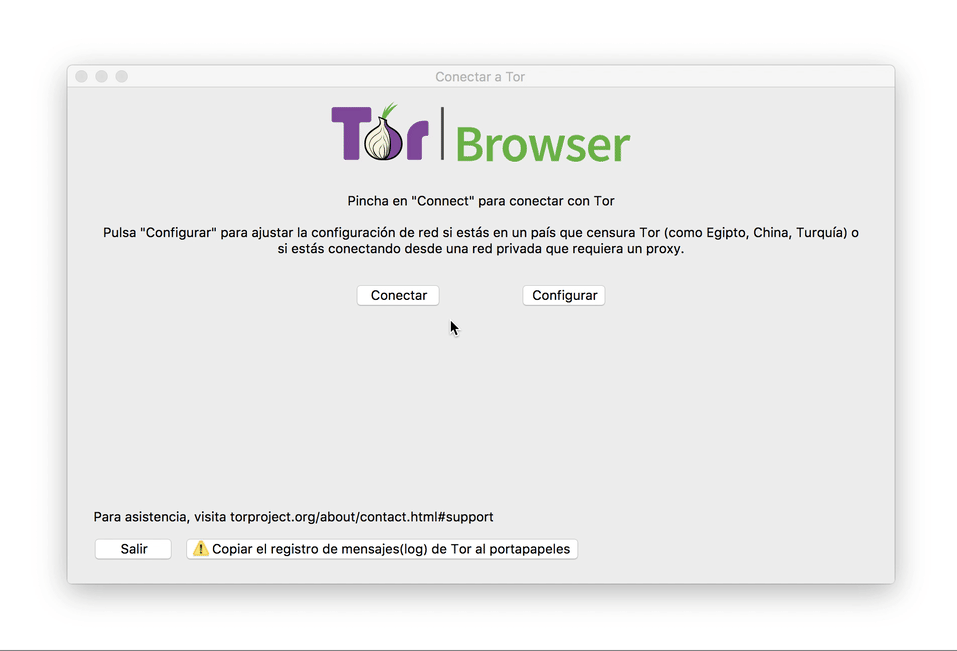 Hey, gk! WTH is going on with memory consumption of Tor Browser on this page?
Tengo problemas al tratar de acceder a TOR utilizando los DNS 1.1.1.1 y 1.0.0.1, no logro establecer una conexión. He tenido que regresar a los DNS de Google.